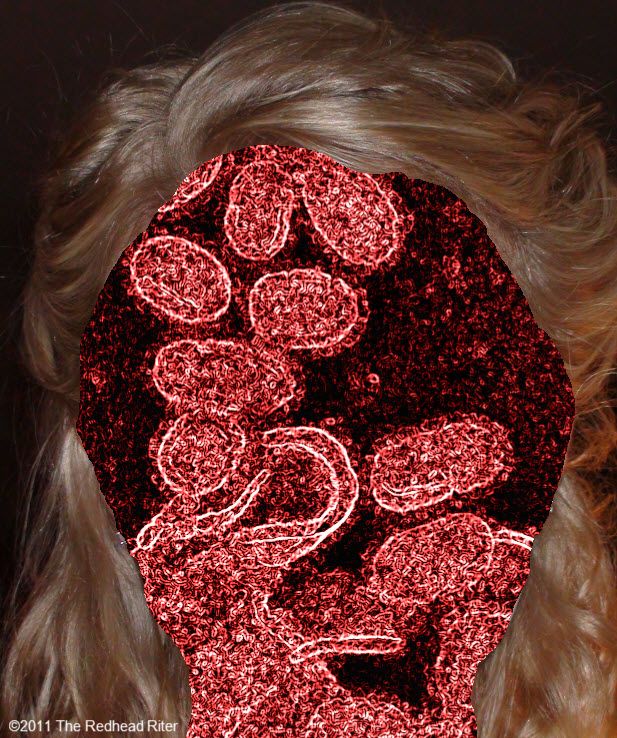 After writing Orange You Healthy and Herbal Tea Recipes for Health, I was feeling rather happy that I haven't gotten very sick the past couple months. Usually this far into the winter, I've already had a severe case of bronchitis, pneumonia and maybe even the flu.
I wouldn't say I was feeling arrogant about missing out on the sicknesses, but I was grateful.
Maybe I felt happy too fast.
There is a beautiful young woman who is otherwise known as my child, who after a visit to the doctor today, has been diagnosed with bronchitis and the flu.
What Are The Symptoms Of The Flu
Alyssa has most of the symptoms associated with the flu and since she has bronchitis, there are even more symptoms. If you've never had the flu, it is a miserable existence with symptoms that include:
Headaches
High temperature/fever
Chills
Body aches
Sore throat
Cough
Clogged/stuffy nose
Excess mucous running down the throat
Diarrhea
Vomiting/puking
Bronchitis has added:
Difficulty breathing
Burning/tightness in the chest
Yes, I am waiting on her hand and foot and happy to do so. I don't think anything is worse than having your own child so sick and yet as the parent, I am still unable to make it go away or kiss the boo boo better.
She is covered with germs that you and I can't see with our naked eyes, but that doesn't change the facts. Alyssa is sick and the germs, I'm sure, are looking at me like hungry vultures.
Tips For Flu Prevention
There are some preventative measures that everyone needs to take to help ward off the germs especially since you just visited my blog. I'm sure this post is crawling with flu germs, so don't touch your monitor and wash your hands after reading this post.
Do not touch your face, nose or eyes. These open areas lead directly to your blood stream and are perfect locations for germs to enter you body.
Wash your hands with warm water and soap many times a day even when you don't think your hands are dirty. Remember, you can not see these microscopic organisms and they are lurking.
When you sneeze, cover you mouth and nose with a tissue and/or your sleeve/arm to prevent the spray of germs. Yeah, I know you just had a visual image of mucous flying across the room, but that is exactly what happens. Do you know how fast that stuff flies out of your nose? The speed of a sneeze is a little under or a little over 100 miles per hour. You read that correctly! So be sure and cover those orifices! Oh, and that tissue you are using…make sure it goes into the trashcan instead of laying it on a desk or end table. Ewww, yucky!
So that you exhibit compassion for your fellow man and their well being, stay home until your fever is gone. You are contagious and the sickness you have can easily be passed on and infect other people.
If you are not sick, stay away from people who are sick! Whether you are germaphobic or not, you can still get sick just like the rest of us.
I'm sure that even if I skate by without getting sick, I will be a germ carrier tomorrow. I'll have to see how sick Alyssa is in the morning and if I need to stay home with her instead of going to work. I definitely don't want her here puking all alone. That just isn't the type of motherhood I've practiced the almost eighteen years she's been on this planet and I'm not going to change it now either.
So before she needs a refill on her Sprite, let's get to a very fun part of the Sunday post.
This is the weekly post where I spotlight my Rockin' Friends who are the Top Nine active participants and loyal followers in my community! If you want to be mentioned here next week, then all it takes is to come in and start chatting with everyone in my community.
With a big thank you for their participation and friendship, here are the Rockin' Friends this week in order of most participation:
This week the special spotlight is shining on Diane of Rodan + Fields Dermatologists. Diane's "About Me" is as follows:
"I joined Rodan and Fields a year ago. I wanted to find a new way to earn income, have freedom and fun in life. I also wanted to improve my skin's overall complexion. I wanted the perfect skin I use to have.
I now get compliments on my beautiful even tone skin as I was able to have the sun damaged brown age spots erased in 90 days. I'm now working on reversing the fine lines with our AMP MD Anti Aging Product."

Obviously, we are going to learn a little bit about smooth skin and possibly fending off those wrinkles. Like her blog description states: "Beautiful Skin….Brilliant Opportunities with the doctors who created ProActiv. We are focusing on reversing the signs of Aging. A now $2.5 Billion dollar industry and growing to $5 Billion." I would say that is quite a chunk of change.
In Dare You To Take The Age-O-Meter-Test, I had some fun with my daughter's photo. I was too scared to upload mine and see myself with a ton of wrinkles, so I used hers. I can't show you the photo or she might never talk to me again. It was very fun to me and I highly suggest you try it too.
I have a similar little gadget which is much rougher that I use for my feet, but the one shown in Ever wonder which works best for an Anti Aging Product isn't covered with sandpaper or an emery board type surface. I think sandpaper on the face would definitely be a bit rough.
If you watch TV during the day, you may already know that the Today Show Coverage: Best Anti Aging Product Voted By Allure Magazine gave Diane's company quite a boost.
There are 4 Steps to look for in an Anti Aging Product Regimen. Diane has been using these steps and shares them with us.
In Avoid Brown Age Spots, I learned something about going to have a manicure that I never even thought about and I bet you didn't either!
What is the fear about aging skin? I could tell you my fears, but you should read the post to see what Diane has to say about the subject. You're not going to believe what happens by the time you are 30 years old. In my book, that is young!
I'm so glad that I've been able to get to know Diane better since she has become active in my community and by reading her blog. Maybe we can all have a healthier complexion if we take Diane's advice seriously. Be sure to add Rodan + Fields Dermatologists to your blogroll, but also come over and chat with Diane in my community.

For everyone mentioned in the top nine this week, feel free to grab the Rockin' Friend badge below and thank you for your participation!!
Until the spotlight next week…Happy Chatting Rockin' Friends!
Don't forget to add your blog URL to the Linky at Woo Us To Your Blog and learn blogging tips that will help you have a polished blog and to increase your traffic! This week it is all about how to make a drop down menu for your blog. Yes, the tutorial you have been waiting for is finally here!.
Until next week…Kiss your family, hug your friends and don't forget to be the friend you would like to have around.

Let me revise that a bit…Don't kiss your family or hug your friends if they have the flu. Maybe you can just throw them a kiss from afar and call them on the telephone.
Okay Alyssa, I'm on my wa-a-a-a-ay.
I've got to go get some more Sprite for my beautiful child.
Enjoy your reading!