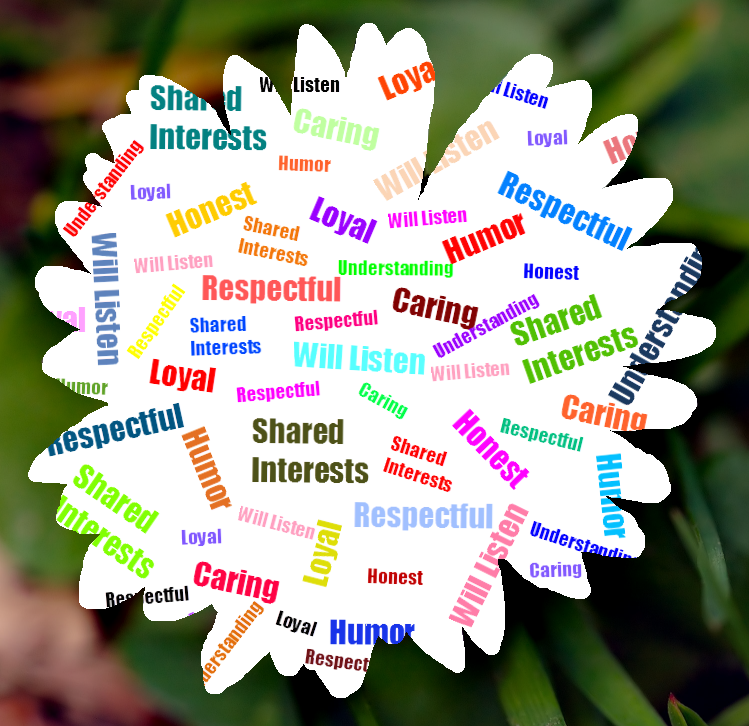 "If friends were flowers,
I'd pick you."
Friendship does not always work out the way we plan. Actually, sometimes in the back of our minds, we know that the people we choose as friends do not have the traits we value.
I posted the question, "What are the most important traits in a FRIEND?" in my community. I feel quite strongly about this subject because of a very sad experience in my past which I won't share at this time, but will eventually. The question was answered by the members and they felt that a some of the traits a friend should have include:
Being Respectful

– to hold in esteem or honor; to show regard or consideration for

Honest

– honorable in principles, intentions, and actions; upright and fair

Will Listen

– to give attention with the ear; attend closely for the purpose of hearing

Caring

– to be concerned or have a special preference

Loyal

– faithful to one's sovereign, government, or state; faithful to one's oath, commitments, or obligations

Shared Interests

– something that concerns, involves, draws the attention of, or arouses the curiosity of a person

Understanding

– a state of cooperative or mutually tolerant relations between people

Sense of Humor

– a genuine sense of fun and the comic, impersonal, or gently personal
How do you measure up against this list?
Do you expect these things from your friends?
Being a friend requires effort and a willingness to think of someone else before yourself. Sounds a little like the advice given about marriage and parenting doesn't it?
This is the weekly post where I spotlight my Rockin' Friends who are the Top Nine active participants and loyal followers in my community! If you want to be mentioned here next week, then all it takes is to come in and start chatting with everyone in my community.
With a big thank you for their participation and friendship, here are the Rockin' Friends this week in order of most participation:
This week the special spotlight is shining on PJ of PJ's Prayer Line. PJ's "About Me" is as follows:
"I have three passions in my life; the love for God and hunger for Him, the love for my husband, and the love for life. While my blog is eclectic, and I may talk about different things, such as our vacations, it is mostly geared toward getting God's Word out.

When I started this blog, I told God this is for HIM. I want to help people to realize there is more to God than sitting on a pew on Sunday morning. I want to help people understand that God is a "lifestyle. You need Him and the knowledge of Him just like you need food and exercise.

Please come and join me on my quest for knowledge of HIM, through the Devotionals, Bible Quizzes, and Inspirational Stories."

You don't have to even read PJ's blog to know that it is centered around God. All you have to do is look at her header and the phrase in the corner that states: "As for me and my blog, we will serve the Lord." I think that just about says it all.
PJ had a birthday last Thursday, so be sure to tell her "Happy Birthday!" So here are a few things that I read at PJ's blog.
In Lord, Teach Us To Pray, PJ breaks down the Lord's Prayer for easier understanding.
As much as I hate to admit it, I know that A Delay Is Not A Denial . Sometimes it just means that the timing isn't right, but since I'm human, I usually want what I want, when I want it!
I enjoyed PJ's interpretation of the pictures she chose in Things To Remember.
One of my favorite stories in the Bible is about Jesus and The Woman at the Well. It also reminds me that life long ago was not easy and they did not have all the modern conveniences that we now enjoy. Of course, I know I would give them all up just to sit and talk with Jesus for an hour.
A post that is "so PJ" is I Think I Finally Made It! PJ has a habit of having long thoughts that jump from here to there. It is actually our little joke. I think if she could type as fast as she thinks, it would measure 450wpm. Anyway, I also enjoyed reading Putting Things In Perspective especially the part about "putting God on the back burner."
I'm so glad that I've been able to get to know PJ and that she has been a very good friend to me since the day we met online. I can say that she has all the attributes of a friend that I mentioned earlier plus more. Knowing PJ is truly an honor and a blessing. I don't think anyone prays for me more than my Mom and PJ for which I am forever grateful. Thank you PJ for being my friend. Be sure to add PJ's Prayer Line to your blogroll, but also come over and chat with PJ in my community.
For everyone mentioned in the top nine this week, feel free to grab the Rockin' Friend badge below and thank you for your participation!!
Until the spotlight next week…Happy Chatting Rockin' Friends!

Kiss your family, hug your friends and don't forget to be the friend you would like to have around.