I'm the only one awake. Why does it happen all the time? I'll tell you exactly why and how it all got started.
Cooking is a skill that requires work – more for some than others. At the ripe old age of twelve, I received my first of many shocking lessons that common sense is required to exist in this world.
I didn't used to have common sense. No, you can not ask my mother if I have it now.
Anyway, Mom had created her great macaroni and cheese meal together in a square Corning ware dish and covered it with a piece of plastic wrap. She placed it lovingly in the refrigerator while informing my sister and I that we were going to have it for dinner the next night.
We all prayed, kissed each other goodnight and went to bed.
The next afternoon, as was the ritual, I made the required phone call to let Mom know that my sister and I were safe at home after a fun day at school. Mom was quick to remind me to put the macaroni and cheese in the oven at the appointed time. We eventually said our "I love you's" and ended the call.
Several hours later, I followed Mom's directions which were:
"Take the macaroni and cheese out of the refrigerator and put it in the 350 degree oven."
After doing so, I'm sure my sister and I continued to watch our favorite shows which were "Match Game" and "Tattle Tales." Eventually Mom arrived home from work which meant we could eat the delicious meal that was torturing us with it's wonderful aroma.
Mom leaned down and pulled the macaroni and cheese out of the oven. Since this was really my first "cooking" experience alone, I just knew she was going to lavish me with accolades. Instead, she stood staring at it for a long time and then looking straight at me with a flabbergasted look on her face, Mom said, "Did you take the plastic wrap off the macaroni and cheese before you put it in the oven?"
"No," I said innocently. "You didn't tell me to take it off. You just said to take it out of the refrigerator and put it in the oven. That's what I did!"
"Well I thought you had enough common sense to take off the plastic wrap!" Mom exclaimed in complete bewilderment.
Needless to say, Mom didn't make the "common sense assumption" mistake too often after that incident.
Fast forward about thirty-six years.
Put a little of this soft dog food with gravy, that hard dog food, some tuna fish and a tiny bit of cheddar cheese in a bowl. Warm slightly. Serve immediately.
After snarfing it down in record time, Bella climbed on the couch and immediately went sound asleep.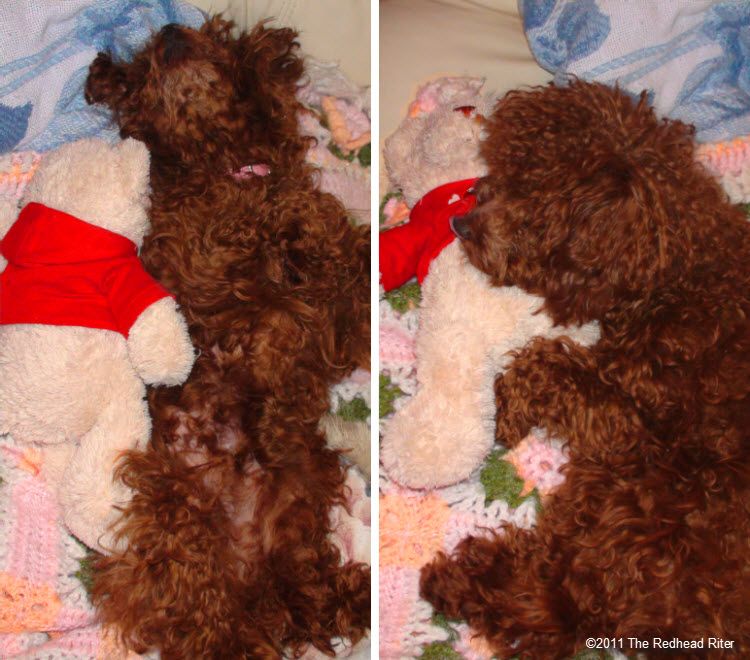 Obviously, I can cook quite satisfyingly.