You may not think you need to read this post, but you do because in this case, ignorance is not bliss.

"Appearances often are deceiving."
~Aesop~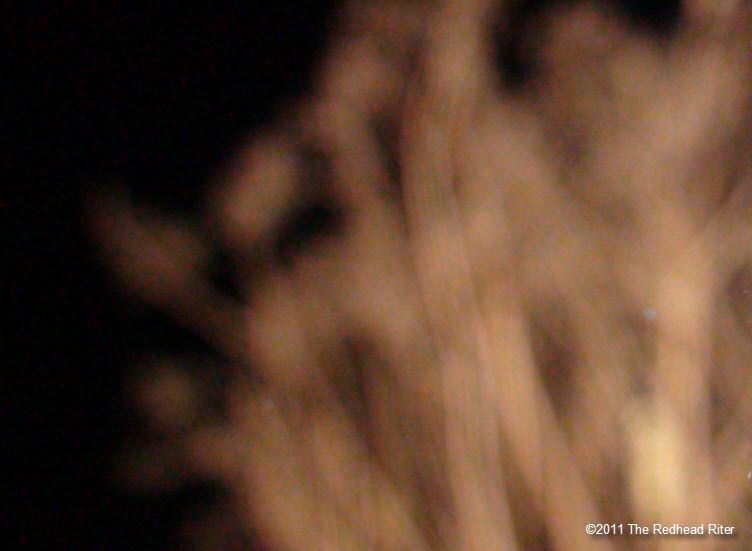 What is in the photo above?
Is it obvious to you or are you having a hard time figuring it out?
You do know some things about whatever is in the photo, right?
Let's see….looks black in some places and brown in others.
Anything else?
Can you tell if it is close up or far away…
Large or small…
Dangerous or safe?
It is hard to really know, isn't it?
Here is another photo of the same thing, but this time it is clear and the object is distinguishable.


Now you know everything about what you see in the photo, right?!
Did you just say, "Yes!"
If you did, you're wrong and you did not read about making pop judgments the last time I posted a pretty tree in the night…or is that the wee hours of the morning?
Do you know if it is hot, warm or cold outside?
Is there snow on the ground, barren dirt, grass, a mountain or maybe a cornfield?
When we blog, I think most people tell the truth about themselves and their lives. Of course, information such as our home address, telephone number and the name of our child's school are left out for the safety of our family.
This isn't a big revelation to anyone, so what is my point?
Do you write about the way you really feel or is it candy coated?
Okay, well that's blogging and I understand that some people candy coat everything they write about in their blogs. I guess, "To each their own," but what about life?
When I was the General Manager of a hotel, I used to tell the staff, "Smile! If you don't feel like smiling, smile anyway and fake it!"
Do you smile anyway and fake it every day and in every circumstance of your life?
I don't.
Maybe I should, but at this point, not only don't I fake it, but I can't and don't want to fake it.
I am me and that's all that I am and all I can be.
Today was a very hard day for me. The world pushed in and everything that I can't control suffocated the little bit of happiness that I had found the past couple weeks.
It is so apparent that not only has my world changed, but I truly am suffering with PTSD.
PTSD is an acronym for Post-Traumatic Stress Disorder. I'm sure you have heard the term thrown around when people talk about soldiers coming back from war. Well, it is more than a soldier's affliction. If we break it down, it is a condition that affects a person after a terrifying or traumatic incident has been witnessed or experienced.
Normal people experience a horrible incident and afterwards might feel anger, fear, shock, nervousness, and/or guilt. A person with PTSD can not shake these feelings and instead the emotions increase in intensity. .
It makes it hard or impossible to:
sleep

stay awake

hold a rational thought for longer than a few seconds

carry on a conversation

remember

think

cope
Obviously it wreaks havoc on trying to live a normal life.
My life has not been normal.
I've tried to pretend it doesn't exist, pray it away, get angry about it, fake an opposite emotion when it threatened to overtake me and a multitude of other things that didn't work. Today, I had to give into it. I had extreme stress and unhappiness presented into my life which made me unable to cope with already whirling thoughts in my head.
When I awoke this morning, the moments of Alyssa dying kept repeating in my head like a terrible movie. I dreaded the day the moment I opened my eyes. By the time evening came, I was quite literally ready to jump off the highest mountain or drown in the deepest ocean.
Today my life has been Hell.
I'm sharing this with you because out of all the thousands of people that read my blog, I'm sure someone else is suffering the same thing or will be afflicted with PTSD some time in their future. I hadn't ever read anything about the disorder before my life was turned upside down, so I was rather clueless as to what was happening to me. I don't want you to feel that way.
I feel like a winter tree that has watched every leaf fall from it's branches. I feel that I have lost a piece of myself forever.
Supposedly, it will get better. Everything I've read, says that it is a gradual and ongoing process of healing which never completely rids a person of all the symptoms of the dreaded PTSD. With therapy, PTSD sufferers learn to cope with the trauma and the feelings associated with it.
That prognosis is depressing in itself, but this is what I have learned so far:
There will be good days, bad days and worse days.

Added stress WILL bring on more symptoms so avoid as many stressful people and situations as possible.

There's no way you can help yourself out of this condition. You need the help of a therapist.

It is best to tell your family and friends. Those that care about you will seek to lessen your stress and brighten your day.

Some people don't and won't ever care about you or your condition. Avoid them like the plague.

Laugh as often and fully as possible.

Realize that you are not the same person and therefore, do not have the same expectations of yourself because it will cause undo stress.

Loud noises can elevate the symptoms.

Unexpected movements can scare you. For instance, I opened the bathroom door and someone else was coming into the bathroom at the same time I was leaving it. Instead of us just saying, "Hey!" her sudden appearance scared me terribly. I screamed and that scared her so she screamed. It sounds funny now, but at the time, my heart was beating so fast, I thought I would have a heart attack.

You will continually feel like you want to die – that dying is the answer. Well, dying naturally might be the answer, but don't kill yourself. If you start feeling like you want to do something that drastic, call your therapist or a trusted friend/family member.
That was your first lesson in the horrible life of a PTSD sufferer.
So the next time you think, "He has an easy life," or "She never has anything bad to overcome," slap yourself on the back of the head for being so judgmental and critical. If you know someone is suffering and you stress them out more, slap yourself again a little bit harder. Life is not easy for anyone because everyone is suffering in one way or another. Some people, however, have it harder at times, so have compassion and give them a break because you never know when the shoe might be on the other foot.


"Three things cannot
be long hidden:
the sun,
the moon,
and the truth."
~Buddha~