My Mother, Teresa
(Lookout point at the Shenandoah Valley)
I've always known that my mother was a special woman. Perfect? No, but she doesn't have to be perfect in order to be loved. I've also thought that Mom was beautiful not only physically, but inside her heart. Mom loves the Lord and her family. Everything she does revolves around one or the other while she strives to be her own best person.
You know what?
Mom is a great person with a beautiful heart filled with love and compassion.
I have billions of memories filled with Mom as does my sister, niece and daughter. She has been there for all of us at one time or another in different capacities loving us as we grew. Seeing Mom with Brittany and Alyssa makes my heart feel so full of happiness because I can see a part of her in each of them for which I am thankful.
I have always loved you, Mom.
One small story…
I distinctly remember laying across the front seat of the car with my feet in Dad's lap and my head in Mom's. It was the weekend and we were taking the ritualistic two hour drive to my grandparents. The sun was shining really brightly and they both were talking.
They thought I was asleep.
Actually, I had been asleep and was just barely awake. It is so hard to wake up with the warm sun beating down and the hum of a moving car.
With my eyes still closed and listening to their talking, I thought about how much I loved my parents. I could feel Mom softly playing with the curls on my head. She always twirled her own hair between her fingers abstractedly. I found this habit intriguing and somewhat of an enigma. In this hazy, sleep filled thinking, I felt so much love for her.
Thankfully, I can remember being very, very young. As a matter of fact, I can remember being two years old which is how old I think I was in the car that day. My parents were very young – around 20 years old. Like I said, they were very young with dark hair and smooth, unwrinkled skin. We all grew up together in many ways and I am so grateful for such wonderful memories.
On January 23, Mom was born into this world. It is truly a blessing to my sister and I that we are the people that can call her Mom. I am also very thankful that she has loved her grandchildren and has made an effort to always be in their lives.
My Niece, Brittany and my Mother, Teresa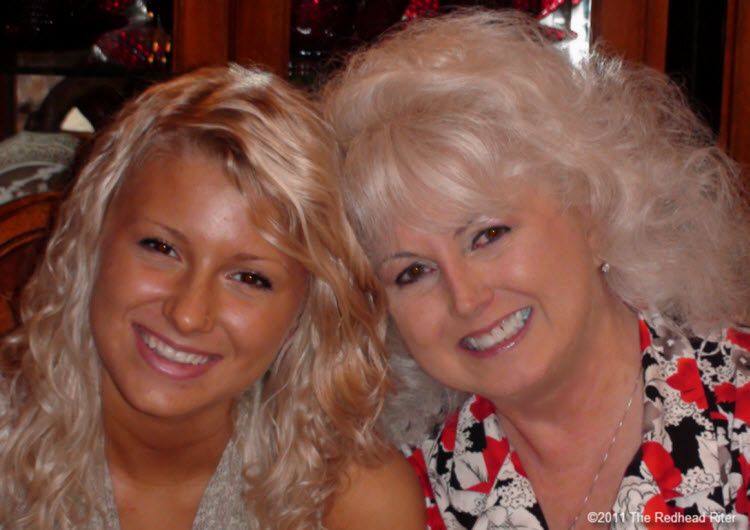 My Daughter, Alyssa and my Mother, Teresa
Love the green gum in you mouth Mom (hee hee)

A Sonnet for My Incomparable Mother
I often contemplate my childhood, Mom.
I am a mother now, and so I know
Hard work is mixed together with the fun;
You learned that when you raised me long ago.
I think of all the things you gave to me:
Sacrifice, devotion, love and tears,
Your heart, your mind, your energy and soul–
All these you spent on me throughout the years.
You loved me with a never-failing love
You gave me strength and sweet security,
And then you did the hardest thing of all:
You let me separate and set me free.
Every day, I try my best to be
A mother like the mom you were to me.
By Joanna Fuchs
Because I can't help but think about you when I hear this Mom, I am dedicating your favorite song by your favorite singer to you. As a side note to everyone else, Mom actually has the mannerisms and moves the same way Snow White does in the video and her beautiful voice can always be heard singing the wrong words to a song (wink). Mom even had the same hairstyle as Snow White when she was in 8th grade.
"I'm Wishing" that you have a Happy Birthday Mom!
No written word could ever express the depth of my love and thankfulness for you Mom. Thank you for being a wonderful daughter, sister, mother and grandmother. We all love you dearly and forever.