Just the other day while having lunch with a room full of men, I told them that it would be so great if I knew how to fix my own car. I envy how easily they talk about one automobile problem after the next and then explain how they repaired it. As a woman, I always feel uneducated about car repairs. Often, automobile repair shops have taken advantage of my lack of knowledge and I've spent thousands of dollars needlessly. The term, "They saw me coming" pops into mind frequently.
I have found a splendid site that will help women walk confidently into the automobile repair shop armed with the necessary knowledge to avoid being ripped off. Let me show you as we pretend I own a 2005 Chevrolet Silverado 1500 truck and it has a problem. First, I log into RepairPal and type in 2005 Chevrolet Silverado 1500. On this page you will find:
Those pages alone sold me on the site! So much information by REAL people that have nothing to gain except the satisfaction of being helpful. Using our example vehicle, let's pretend someone said that my truck needs a brake job and I have no idea all that the problem entails. I then visit the Auto Repair Encyclopedia and click on Brakes to find a whole bunch of information in language that even I can understand.
All of this is so helpful, but there is still more! RepairPal also helps with finding reputable vehicle repair shops. Since I used to live in Dallas, Texas, let's use Dallas auto repair as the search example for old times sake. After looking up our term, I am brought to Dallas Auto Repair Shops and Mechanics. I am able to research the Top Rated Repair Shops and Mechanics in Dallas and read comments about the shop, service and mechanics.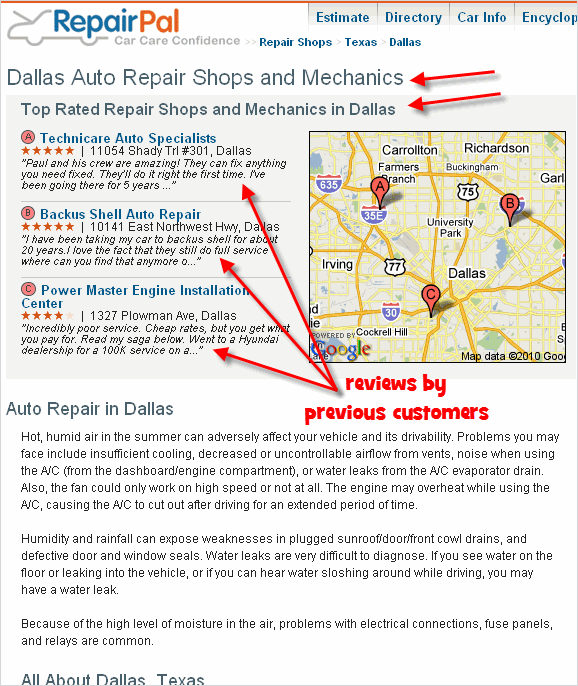 Is that awesome or is that awesome?!!
Whether you live in a city with over 1.2 million people like Dallas or a podunk town with a population of 18,000, RepairPal is a site well worth using frequently.
Am I hooked? Oh yeah! Maybe one day I will be able to sit down at the lunch table and know exactly what it means when I say something like, "The steering developed a clunk type noise from the upper intermediate steering shaft, so I had it replaced under warranty because it was covered."
My opinions are valued and I was compensated by my friends at RepairPal.com for this post.