The demons and fire-breathingdragons are evil, overwhelming and sometimes it feels impossible to defeat them alone.
How well do you know yourself? Do you know your limitations? Do you think you are armed and invincible?

I am OCD.
No, it isn't an acronym for "One Creative Daughter" or "One Cool Darling." OCD stands for an anxiety disorder called Obsessive–Compulsive Disorder which is characterized by repetitive behaviors performed to help reduce worry, apprehension, and the fear that causes anxiety. In an unexplainable way, participating in the compulsion causes the sufferer to believe that they are preventing the event from occurring.
These actions or habits may appear paranoid or even psychotic. Since the OCD sufferer knows they have this condition and that it is irrational, that knowledge also adds to the anxiety and increases the negative behaviors. In many ways, it is a vicious cycle which causes self-recrimination, self-criticism and/or self-loathing. This disorder can be very alienating.
Some people exhibit this condition by doing actions so obsessively that it causes harm to themselves such as washing their hands until they bleed or brushing their hair until it falls out. Remember my "habit" of picking my lip? Yeah, well, that is probably a bit compulsive and obsessive too. There are also the obsessions such as opening and shutting a door a certain number of times before entering the room or being unable to go to bed with a dirty fork in the sink. These actions are extremes that seem to provide control and comfort for those inflicted with this condition.
Often OCD sufferers are able to channel their obsessive behavior into accomplishing a mind-boggling amount of things such as having a spotlessly clean house, being an over-achiever in their career, or they develop and expand multiple talents.
The only really "obviously weird" obsession that I have involves keeping the door locked. It goes something like this…
I check the front door lock to ensure it is latched.
I walk a little away and then turn around and look at the lock.
I make a statement to myself – "The door is locked."
I turn back around and head for the bedroom all the while telling myself to keep walking because the door is locked.
Right before going into the bedroom, my brain is flooded with the thought that I didn't lock the door. Someone is going to break in! We are all going to die and it will be all my fault because I didn't lock the door!
I go back to the front door and recheck the lock which is still locked.
Now I'm frustrated and tired.
I finally make it into the bedroom and lay down in the bed.
If it has been a really stressful day, before my head hits the pillow, the thought of a burglar bursting through the doors enters my head. I'm immediately filled with fear and feel that if I do not get up immediately, it will really happen.
I leap from the bed and quickly go to the door. Of course, I find the door locked.
Eventually, the nightmare lock scenario ends after this repetitive "checking of the lock" and my brain shuts up and lets me sleep.
That is the only openly apparent and "ridiculous" anxiety that exhibits itself in an OCD behavior for me, however, I have other compulsions and obsessions. When I enjoy doing something like cooking, playing video games, listening to a song, reading, or blogging, to name a few, I do it over and over and over and over again. I have to always be aware that I do not take anything too much to the extreme and "give in" to the behavior.
I'm sure you've heard that you CAN get too much of a good thing. Well, it is true. Sunday I listened to the same song all day long and my family was ready to stuff me in the closet. My only defense is that I like the song, however, that is an OCD behavior!!!
There is one major drawback to this condition which is that I personally do not know my limits. Because of that fact, I am very wary of the things I "start" or "try."
For instance, I have never abused drugs or drank alcohol. I fear that if I "snorted coke" or "got tipsy/drunk" for instance, I wouldn't be able to stop. Unlike the door obsession, a cocaine or alcohol obsession would eventually kill me.
It simply isn't worth the risk to start something that I am unsure I would have the ability to stop.
Knowing this "secret" about myself and my limitations is one of the best weapons against the OCD demons and dragons. I made a decision long ago that I would never abuse drugs or alcohol and that I wasn't going to tempt my weaknesses by even trying them. That decision and the process of getting to that decision is and has been the most powerful weapon in staving off those substances.
The bottom line is that I do not trust myself with participating in behaviors that could harm me or ruin my life permanently, so I avoid them. That really has been the simplest solution and my greatest weapon.
I also surround myself with people who respect my choices.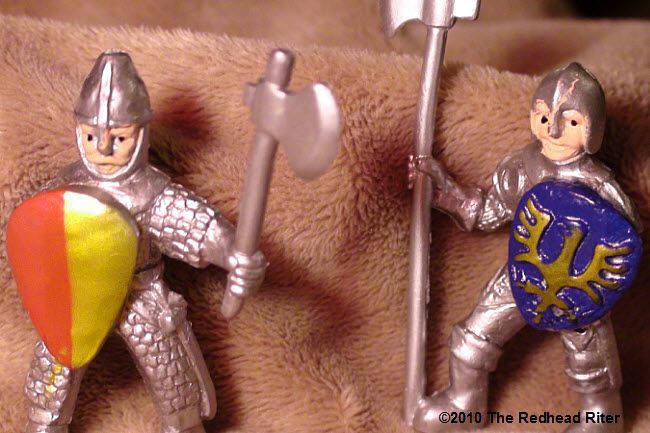 We all have weaknesses and this just happens to be mine. I understand it and have learned to accept it in my life. Knowing that the demons and dragons are lurking around the corner waiting to pounce, has given me the willpower to remain determined, courageous and strong.
I think of this knowledge as power. I know who the enemy is and how to fight it.
Do you know the dragons that wish to breathe fire into your life? How do you defend yourself and remain strong against your demons?
Helpful Links
International OCD Foundation
Anxiety Disorders Association of America
Brochures you can download
OCD Organizations and Support Groups