Should I be blunt? Blunt usually works well for me, so I will give it whack.
In case you haven't noticed, I was born with red hair. I did not have any say in the matter. In your email you said,

"I hate your red hair and wish that you would get it off the header."

I'm sorry you feel so strongly, but I must tell you that I'm still trying really hard not to laugh. What do you suggest I use in my header? I mean really, how can you go through life and not love a redhead?! We are an awesome minority and the photo below is proof. Of course, that is purely my unbiased opinion.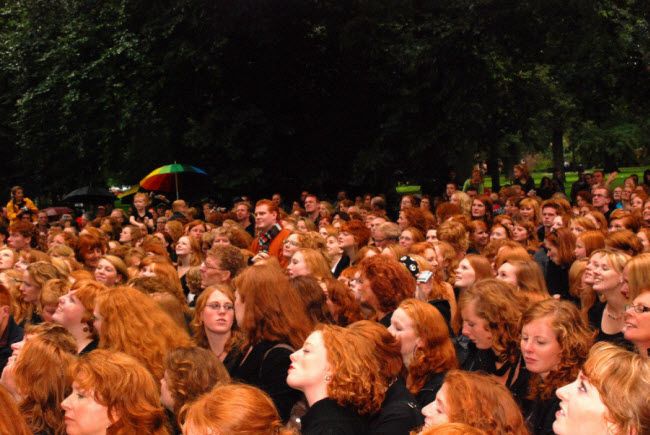 Image:
source
Another day and another email stated that,

"Your template is so boring. How long are you going to keep it this way? Please change it because I cringe each time I visit your blog."

Hmmmm. I almost don't know what to say to that one, but let me try. I created my template and find the colors relaxing, peaceful and I think they rather match my hair coloring. The pictures are larger in my posts and I have plenty of room in the sidebar for all the widgets that mean something to me. If you cringe when you visit, why are you visiting? Are you one of those people who like to bang your head on a wall and then complain that you have a headache? Tsk. Tsk. However I do not want you to worry because your wish is going to come true. I'm working on a new template and I'm not sure if I will use the same colors, but I'm pretty sure my red head will still be in the header.
The next email was from the very famous Anonymous who forgot to leave a link to their blog. Do you know him/her? The note said,

"I am an atheist and find your belief in God almost as silly as fairy tales read to children. Surely a woman as intelligent and witty as you claim to be would see how erroneous your beliefs are and how they hold you back from having a successful life."

All I can say to this is that you might want to work on your converting technique because it is a bit rough. I have atheist friends and none of them are rude to me about my religious beliefs. Maybe you should try practicing the rule that I gleaned from the movie Bambie. Thumper is the bunny rabbit and his mother taught him that "If you can't say somethin' nice, don't say nothin' at all." For the record, Anonymous, just ask my mother and she will tell you that I am intelligent and witty.
As far as the comment,

"Be real! No one has a life that is always so happy!"

Why do I always get this comment? I'm trying to be p-o-s-i-t-i-v-e because it helps make life h-a-p-p-i-e-r. Obviously, this reader has been living in an internet cave because wasn't it just a few weeks ago I was blogging about my father's death? There was also the terror of my daughter's brush with death a few months ago. To top it all off, today my husband was laid off again. Obviously, degrees on the wall don't override tenure or familial connections

within a company

.

Yeah, it rather stinks like Limburger cheese and I hate the stress.

I hope this is being real enough for you. All the weight of earning income for the family is back on my shoulders which hold up the intelligent and witty red head that the first and third Anonymous writers don't like very much. I think, however, there are millions of other families that are financially struggling, so I've got company.



Since I am in the midst of making some major changes to my blog and my life, I am reaching out for your personal preferences and opinions about my blog. I won't necessarily use them all, but I want to know the feelings of the vast majority of my readers. I created a poll that you will find in my sidebar. All your answers will be anonymous which will give you the freedom to be brutally honest. If you want to be specific in the comments section, you can do that also. I would greatly appreciate your candor, expertise and opinion.
Oh, I did leave out the spammers that are obsessed with their body parts. Let me just say that if you send me the emails in English, Chinese or any other language, I do the same thing to them that I do to Bella's little piles of poop. Yep, gone forever without examination. Ewwwwww….please tell me that you didn't get a visual of that poop thing.
You did?
Yuck!
I'm sorry, I just couldn't resist the temptation. Just be glad I resisted posting a picture.
Your face all scrunched in disgust is rather funny!