There is often more than one way of accomplishing a task and still end up at the same place or solution. Obsessing over the smaller details can create undue stress. The last thing I want is more stress. Don't you feel the same way?
I love to cook all the time. I would have been the perfect farmer's wife with thirteen children. Having a huge table full of happy people eating the food that I prepare is a wonderful feeling, so multiply that by thirteen and it would truly be a blast. I don't think Alyssa would enjoy sharing me with twelve other children.
Anyway, during this Thanksgiving holiday, Alyssa and I made an apple pie from scratch. She wasn't quite as willing to help this time, but I tremendously enjoyed the company in the kitchen. Alyssa peeled the apples and mixed the filling while I prepared the crust. Then we put it all together.
After sealing the top and bottom crusts around the sliced apple filling, Alyssa created an apple decoration by poking holes in the crust top. I took the knife and made three little slits like a bird footprint. She said, "What's that?" in a somewhat disgusted voice.
"It's a little birdie footprint like a bird jumped across the pie," I said. "Why don't you try making some?"


Alyssa took the knife from me and started poking slits all over the top crust, smiled and said, "Let's put it in the oven."
She wasn't going to bother with "birdie feet."
That was Saturday.
Now it is Sunday night and there is only one piece of apple pie left. Obviously, making straight slits or birdie feet did not affect the outcome of the flavor. It was just a little decoration that didn't "have to" be one way or the other.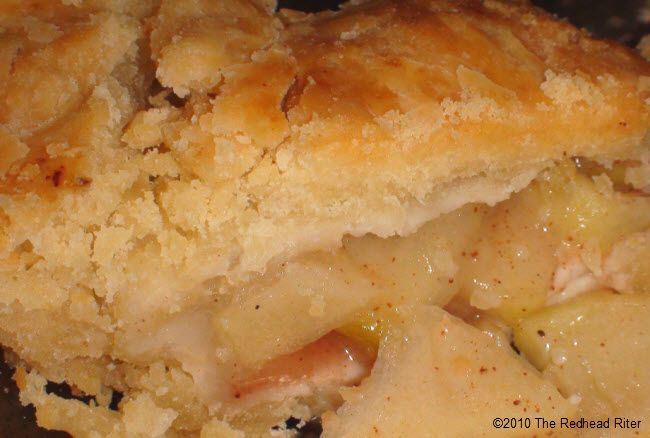 We can apply the same lesson to life. How we get from point A to point B isn't always that important. The important part is that we make it to point B. Stressing over the smaller details will not bring happiness and may even rob you of the opportunity of a happy moment.
I didn't care if the pie had slits or birdie feet. Actually, I didn't care if the whole apple pie was a bad tasting flop. I just enjoyed being in the kitchen with my sweet daughter watching the way she removed the apple peels, wiped the hair out of the way of her eyes, and basically just how she moves. Best of all, she's my daughter and I love her so much even though she doesn't have the patience to make birdie feet in the crust on top of the apple pie.
This is the weekly post where I spotlight my Rockin' Friends who are the Top Nine active participants and loyal followers in my community! If you want to be mentioned here next week, then all it takes is to come in and start chatting with everyone in my community.
With a big thank you for their participation and friendship, here are the Rockin' Friends this week in order of most participation:
This week the special spotlight is shining on Bry of Embracefire. Bry's "About Me" is as follows:
"Bry is a University Student, model and Fitness enthusiast from Vancouver BC, dedicated to elite health, fitness, and motivation!"

At first glance, you will immediately know that Bry is young, beautiful and has one hot body. I say that in the most respectful way possible, but she is more fit than a fiddle. She is in a contest called the 2011 Bodyspace Spokesmodel Search and we have been voting for her in my community. It is such an easy voting system, so I encourage you to help her win this competition by voting for her through the end of November 30th.
Bry gives all kinds of tips and advice to help with our fitness. Sometimes her advice just smacks me in the head like in the post Junk Food Diet Fads. I don't really eat junk foods, but the advice Bry gave was still applicable…"Reduced calories can only help you for so long; if you really want to improve, and continue improving, you have to plan for long term health and exercise commitments."
Sitting at a desk all day definitely has me asking Where are my abs?? Obviously my abs hide from the mirror, but Bry's advice about engaging my core muscles really makes me think that I could do so much more than I do now.
I loved reading Overcoming Negativity because the message is applicable in all aspects of life. I loved Bry's bold statement that "Negativity begets no good, especially when it comes from the people we are closest too. Hurt and resentment for the people we care most about is something no person wants to feel."
So often if we will just change our Plate Proportions the weight would immediately start dropping off.
Obviously, I must be middle-aged because I had a hard time keeping my eyes off the picture long enough to read Bring the Fire: Be Intense and Sweat Hard! Bry said that the week's topic was intensity and recovery. Well, the picture is so intense that it will definitely take me a while to recover.
There are also other posts that you won't want to miss:
I'm so glad that I've been able to get to know Bry better since she has become active in my community and by reading her blog. Be sure to add Embracefire to your blogroll, but also come over and chat with Bry in my community.
For everyone mentioned in the top nine this week, feel free to grab the Rockin' Friend badge below and thank you for your participation!!
Until the spotlight next week…Happy Chatting Rockin' Friends!
Don't forget to add your blog URL to the Linky at Woo Us To Your Blog and learn blogging tips that will help you have a polished blog and to increase your traffic! This week it is all about making EASY MONEY! Do you EVER use the internet? That's all it takes to make extra cash.
Until next week…Kiss your family, hug your friends and don't forget to be the friend you would like to have around.