I'm skeptical.
Let me rephrase that…I'm very skeptical and usually have to see to believe just about anything. This is a positive for other people that know me because it means that I make sure something is "good" before I share the idea.
Maybe you roll in money and the thought of making more just repulses you, but then again, you may be as poor as a church mouse and a little more of those green bills would be a welcomed sight.
Either way, I'm going to tell you about something I started at the end of the day on 11-13-2010 called Swagbucks. Why did I give you the date? Because I want you to see that in just two weeks, I've come a long way with Swagbucks by doing just a few things each day.
So let's start at the beginning.
Swagbucks is a search engine(like Google or Bing) that rewards you for searching. Before you quit listening, let me say that I do not use it as my ONLY search engine. I personally love Google and can't give it up, but I surf some using Swagbucks each day and it helps me to earn a little money.
If you are just going to believe me without an explanation, click one of the large SWAGBUCKS buttons below and sign up. I also have a few Swagbucks ads on my blog in the side bar and footer. By getting referrals, not only will my referrals make money, but I will earn swag bucks PER each referral. Each time one of my referrals earn on a search, I will earn a little too. So you will be not only helping yourself earn money, but also helping me. Once you join, you can do the same thing with all your friends, so don't forget to advertise after you get started with Swagbucks.
Really, can you ignore or resist that big red button?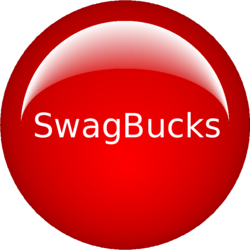 Let me explain how it all works.
The sign up sheet is simple and looks like this: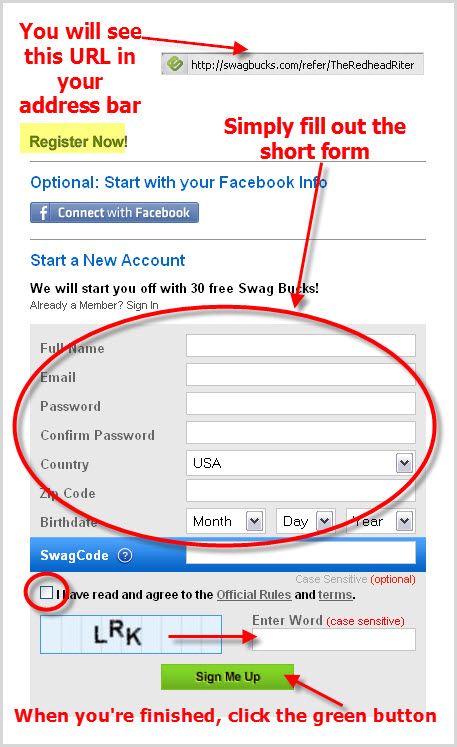 You will automatically earn "swag bucks" through this entire process of setting yourself up to use the Swagbucks search engine. Let me just say it is all worth it!
Next step is to download the unobtrusive, ad-free Swagbucks toolbar. As you can see below, it is a small toolbar and won't bother you at all. I'm saying that because I'm the number one hater of toolbar mess, so I guarantee that this is a great toolbar and I actually like it.
Okay, hell just froze over because I once swore that I would never like a toolbar.
Now make Swagbucks your home page. You can search on your home page or in the tool bar. There is also a plug-in so you can use it in other toolbars you already have too.
Let me show you an example. I searched for a "button generator" to create the big round buttons you see in this post. When the page loaded with button generator sites, I saw at the top of the search results screen that I earned (see below for a snapshot of my screen) 11 Swag Bucks! Sometimes you have to enter a code to "claim" the swag bucks, but this time I didn't have to do anything other than a little happy dance. Searching the internet will randomly earn you between 5 and 1,000 swag bucks.
Here's a little trick I've learned already – If you already know which site you want to visit, do not just type it in the address bar. Go to the Swagbucks search box and type in the address without the dot com or dot net. For instance, the name of my blog is The Redhead Riter and the URL is http://www.TheRedheadRiter.com. When I want to go to my blog, I type "The Redhead Riter" in the search box. How thrilling do you think it was when I won 5 swag bucks for searching my own blog? Hello!!!
I have also found that when I search for things in a sentence, I tend to get more swag bucks. For instance, rather than searching for "turkey recipes," try "turkey recipes using bay leaves." The Swagbucks search engine loved it! Happy dance time again!
At least once a day, you will earn a swag buck just for opening the browser.
How is all this sounding? Too good to be true? I am telling you that it is great and I will prove it shortly.
Another simple way to earn swag bucks is to answer the question of the day in the "Daily Polls" found from the "Ways To Earn" dropdown menu in the toolbar. If you answer the poll question a day later, you will not receive a swag buck, so be sure to answer it each day.
On the Swagbucks main page, "Special Offers" loop through the great deals of the day. As you can tell, the amount of swag bucks earned vary greatly. Just in the example below, the range is from 2 swag bucks to 2,376 swag bucks. If there is something you want to buy, do it through the Special Offers in order to earn swag bucks while you are buying.
Every hour there is an "
Hourly Random Winner
" and if you are the winner, just click and win the number of swag bucks shown. In the example below, UnHandy just won 100 swag bucks.
Another great way to earn swag bucks is to watch short videos on "
Swagbucks TV
." The little clips are usually very interesting. I just watched one on a guy that builds small structures using matchsticks. Amazing since I wrote
a post on toothpicks
which is very similar!
My only suggestion about the videos on Swagbucks TV is learn how to STOP watching!!!! I rather get hooked because they ARE so short and interesting.
In the tool bar you will see a "Mail" icon. Keep your eye on it. You will frequently get an email telling you a code to enter which will give you extra swag bucks. There is nothing to do other than enter the code before the expiration day and time. Easy! Easy! Easy!
Swagbucks has a strong anti-spam policy, so you will not receive emails from anyone unless you sign up and ask for them. It is sweet heaven!
So what can you use all these swag bucks for and what makes it worth having a toolbar and using a different search engine?
You will get FREE ITEMS THAT YOU CHOOSE TO "BUY" by MAKING MONEY through searches online using Swagbucks! There are all kinds of things that you can buy at the "Swag Store," but my favorites are the gift cards. Below I show a few of my favorites as an example and to the left you can see all the different categories of things you can purchase using your swag bucks. Yeah, your eyes are not playing tricks on you. There are gift cards for Lowe's, PayPal, Amazon.com, Barnes & Noble, Target and many, many more.
Do I have your attention now? It is soooooooooooooooo worth the effort to use Swagbucks because all you have to do is SURF THE INTERNET and that is something you already do!
Now are you ready to click the huge button and begin this lovely journey of simple money making?
Not yet? I promise that there is no gimmick or catch, however everything has a down side, right?
Well, I already shed some light on a few of the pros so now I am going to tell you the con too. I want you to realize that I'm not trying to pull the wool over your eyes.
Prodege search utilizes metasearch technology to compile results from many of the Web's major search properties, delivering more relevant and comprehensive results every time you search. Swagbucks injects sponsored search results in between the normal results, but they are clearly marked as "sponsored."
This may be aggravating to you, but a little aggravation is worth earning money. Aren't you aggravated when the clock goes off and you have to get up before the rooster crows to drive into your job? Well, yeah, I rather be at home in my pajamas working, so I can put up with a little aggravation of sponsored ads between my search possibilities. Besides, these sponsored search results help pay for the swag bucks we all receive for FREE! The first page usually has the most sponsored ads, but hey, it is just the first page!
If you are looking for another con to using Swagbucks, I'm sorry to disappoint you. I haven't found anything else that is the least bit of a turn off.
Earning swag bucks for searching online is like someone paying me for just being me! It is truly that easy!
Hopefully, I have convinced you to sign up for Swagbucks and to do it through my referral link to help me out too. After you get it all set up and use it for a bit, tell your friends using your referral link which Swagbucks will provide you.
Do you want to see how much I have earned in less than a full two weeks of surfing, watching videos, finding hidden Swag Codes, getting swag bucks in my email, loading the tool bar and all the other things listed above?
Are you really curious?
I could tell you, but I think I will show you for a bigger impact of the worth of Swagbucks…
Convinced? Now are you ready to click the button to begin your Swagbucks journey?
You're welcome!
The last "Woo Us To Your Blog" post explored How To Create Favicons For Your Blog Or Site and I'm wondering if you remember what a favicon is and if you have created one?
As always, attached is the weekly Linky to enter either the main URL to your site or add each post you publish throughout the week. You don't have to do anything special, just drop your link in and get a little extra exposure to your site.
Until next week's wooing post, have fun with Swagbucks and I will see you back here next week with another blogging tip.
Knowing that you are going to love Swagbucks,
The Redhead Riter