A few years ago, spurred by my grandmother's passing, Alyssa and I were discussing our own burial wishes. Talking about death usually isn't a pleasant conversation, however, remembering this one still makes me laugh. Alyssa, you can roll your eyes the way teenagers do so well.
It went something like this…
"Alyssa, when I die some day, my body will be in the ground, but my spirit will not. I don't want you to feel like you have to go to my grave all the time."
"I know Mom," she said with a voice that echoed her dislike of talking about this subject AGAIN.
"Maybe I can be buried somewhere that they will allow daffodils to be planted on my grave plot."
"Why would you want them planted there?" Alyssa asked.
"Well, a daffodil is one of my top two favorite flowers and every year they regenerate to come back with twice as many as the year before. Eventually, daffodils would completely cover my grave!" I said with much enthusiasm.
"Sure," she said matter-of-factly, "And then I won't ever have to visit you."
"Hmmmm, that wasn't exactly what I was thinking. Don't you want to visit me?"
"Why Mom? You just said that you wouldn't be there and now you told me the ground would be covered with daffodils!"
My advice: Be careful what you tell your children!!
I Wandered Lonely as a Cloud
by William Wordsworth

I wandered lonely as a cloud
That floats on high o'er vales and hills,
When all at once I saw a crowd,
A host, of golden daffodils;
Beside the lake, beneath the trees,
Fluttering and dancing in the breeze.
Continuous as the stars that shine
And twinkle on the milky way,
They stretched in never-ending line
Along the margin of a bay:
Ten thousand saw I at a glance,
Tossing their heads in sprightly dance.
The waves beside them danced, but they
Out-did the sparkling leaves in glee;
A poet could not be but gay,
In such a jocund company!
I gazed—and gazed—but little thought
What wealth the show to me had brought: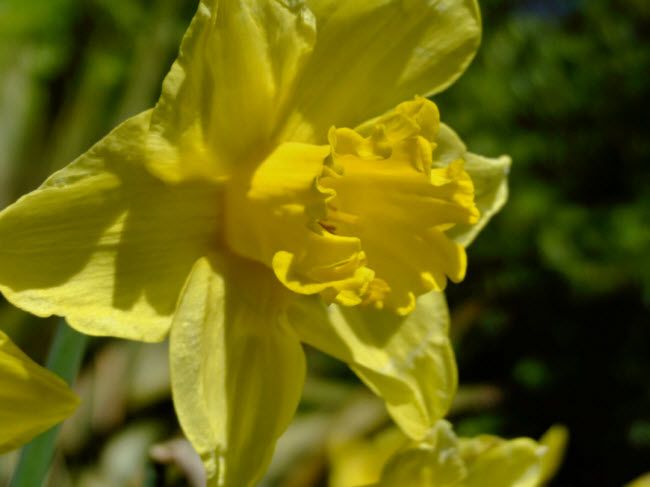 For oft, when on my couch I lie
In vacant or in pensive mood,
They flash upon that inward eye
Which is the bliss of solitude;
And then my heart with pleasure fills,
And dances with the daffodils.
Can't you relate when he says, "I wandered lonely as a cloud"?
Many times I have "on my couch I lie in vacant or in pensive mood," and then began to have memories "flash upon that inward eye" so strongly that I feel almost as if I had just lived it.