Google Friend Connect is an online service by Google that appears as a box in various sizes and colors on many websites and blogs. It allows users on the internet to connect and interact with other people on different websites throughout the world.
Let's use my blog's widget as an example. I haven't been using the "connect" part very long, but I'm really enjoying many of its features now that I make more of an effort to get to know my readers using this tool..
You see the widget on the left, but I see the widget on the right.
When I click "Options," a member menu will appear. Let's click "Manage Members" and take a look at what we can do with this widget.
Another much larger box will appear showing the followers of this blog. The top portion are my followers which I lovingly call my "Rockin' Readers and Riters" and on the bottom are those people who have befriended me through Google Friend Connect.
Let's click on one of the followers.
Apparently "The Little Blond Girl" is not yet my friend on Google Friend Connect although she is my blog follower. So if I want to invite her to be my friend, all I have to do is click the little plus sign next to her avatar and another box will appear.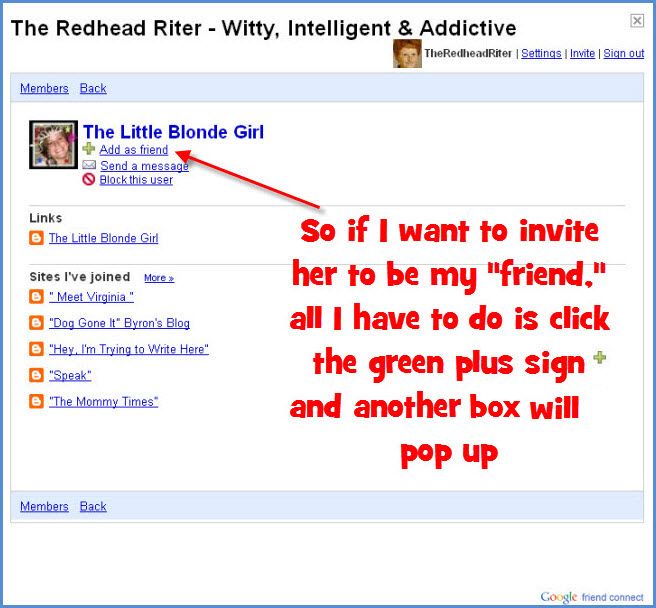 I am given the option to send this follower a message or just invite her without a message. All I have to do is type the message in the box and click "Send." This will invite my follower to be my friend and give her my personal message at the same time.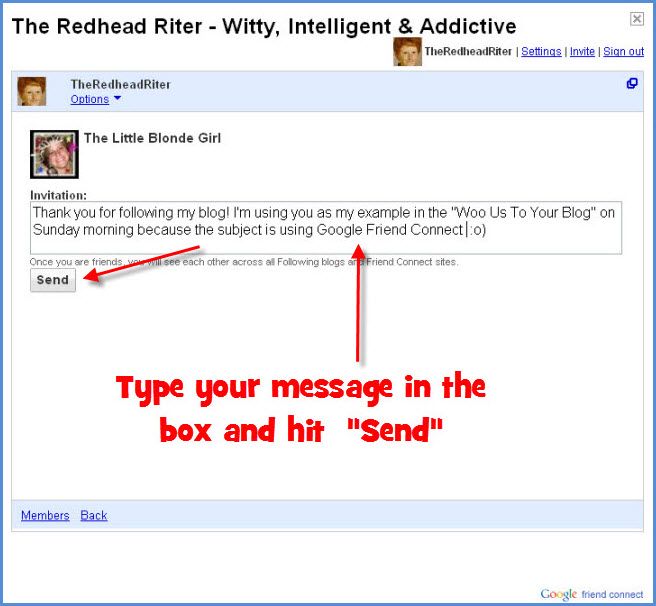 After pressing "Send," you will see the status next to the avatar which will immediately state that "You have invited….to be your friend."
When the person accepts your invitation, the status will change to "….is your friend" and your avatar will appear at the bottom with the rest of their Google Connect Friends.
At any time you can send a message to your friends and followers by clicking the envelope that states "Send a Message."
Under "Links" all the person's sites and blogs will be listed and linked.
This box will also list all the other sites that the person is following. If they have joined many sites, the full list will be visible by clicking "More" to change the page and view more of the follower list.
To go back to the first box with multiple avatars, click "Members."
Remember in the second step a "Members Menu" popped up? Well, the last choice in that menu is "About Google Friend Connect." After clicking that link, you will be directed to the following page.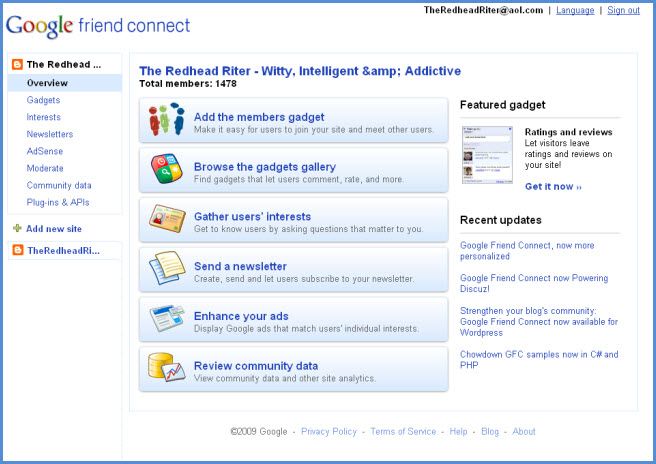 This page is rich in information and more options to expand the use of your Google Friend Connect widget. But I don't want to overwhelm you, so I'll give you a little time to get used to this feature and then I will walk you through some of the other nifty things you can do with this widget. If you're brave, feel free to go ahead and learn more!
The last "Woo Us To Your Blog" post explored Cross Promoting to help your SEO (Search Engine Optimization) action. Do you remember the message?
As always, attached is the weekly Linky to enter either the main URL to your site or add each post you publish throughout the week. You don't have to do anything special, just drop your link in and get a little extra exposure to your site.
Until next week's wooing post, have fun cross promoting with links within your blog and I will see you back here next week with another blogging tip.