Welcome to "Tell The Truth Thursday" where the question that has been posted in my right side bar gets answered by me and you! Did you prepare your post and are you ready to drop your URL into the Linky so that we all can follow? Grab the thumb above linking it back to this blog posting and let's get started…
The question this week is :
How does your ideal bedroom look? What kind of furniture, window treatments, knick knacks, colors, etc. would you use?
I previously wrote a post called White…Plus which boldly states my taste in a nutshell. I love white decorations. There are drawbacks to keeping everything clean and white unless you live alone – which I do not. However, if rules such as "no shoes in the house" or "no eating while sitting on the bed" are put into place, the whites stay white.
I like rooms that are not cluttered with "stuff" and that includes furniture, but bedrooms have to have beds. When living in Texas, we went to the annual Parade of Houses in Plano. On one such occasion, I fell madly in love with the swinging bed. I have searched and searched the internet for something that looked like it, but the closest I've come is a round bed and a thin porch swing bed.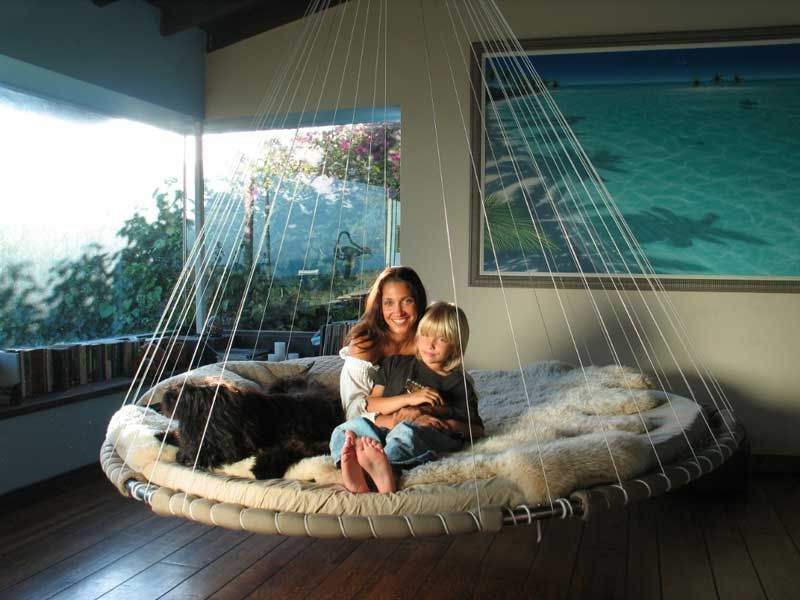 With those two beds fresh on your mind, imagine the bed below (without the canopy) swinging and you will have a good vision of my ideal bed.
Of course, I would want all the linens to be white!
For the decorations you would have to conjure of an image of shabby, elegant country. Easy! I know, they don't really mix, but in my head they go great together.
>
>
I love how it exudes a relaxing and clean atmosphere. It is just so peaceful….reminds me of an ocean breeze on a perfect spring day.
Oh! Don't forget the lighting…yeah, a bit extravagant, but this is just daydreaming.
If you click my White…Plus link and scroll all the way to the end, you will also know what I think would be the best part of the bedroom.
Mischievously,
Now it is your turn to answer the Tell The Truth Thursday question. Enter the post URL that answers the question in the Linky below and have fun checking out everyone's answers…