"To thine own self
be true,
and it must follow,
as the night the day,
thou canst not then
be false to any man."
~William Shakespeare~
Having the bond of friendship, be it with a family members or friends, there is always the sense of wanting to fit and belong. For teenagers we often label it as peer pressure to conform and be like everyone else. However, after the teen years, there is usually, no matter who you are, where you go or what you do, a sense of wanting to connect with others.
If you literally look in the mirror, it will assist in knowing yourself better. What and who do you see?
Let's look at the relationship we have with our friends. There are many things we have in common with those we like to spend our extra time and then there are those things that are totally different. It is the totally different characteristics that we find hard to either reveal or to stand up for when we are with them.
As an example, I have lunch with seven men…no women. I didn't really seek them out or even consciously decide to have lunch with a group of men, but that's just the way it turned out.
Looking back, it makes total sense. Their manner is easy going and they are quite blunt which I find totally appealing. They don't talk about shopping for dresses or shoes, details of divorcing couples, a secret someone told them, or many of the emotional things that women discuss. I hear a lot about their wives stupidity (my perception), children's antics, automobile problems, the latest motorcycle talk, vacations, things they have repaired at home, new gadgets and phone applications, and their phenomenal cooking skills which I admit is totally true because I often partake of delicious meals they cook.
I enjoy all those topics minus motorcycle stuff, but it is enjoyable to hear them talk. I do not feel the need to say something about every subject like women often do. I also do not feel the need to suddenly start learning how to fix a water pump or buy a motorcycle. I can still be who I am.
I do not feel pressured to become someone that I'm not.
I also do not expect them to take an interest in the vanilla candle that I just purchased or how I finished all seven loads of laundry in record time. I'm sure they do not feel pressured to become candle buffs.
They are manly men and I'm a womanly woman. We are simply different. I appreciate our differences and enjoy them. I remain true to myself. I like me…the person who gets excited over:

blogging
Excel spreadsheets
clean, hot laundry fresh out of the dryer
crocheting
loud music
large libraries
beautiful food
pictures of everything
crafts
sewing
being a night owl
long johns
flannel shirts
Stetson hats
and vanilla candles
See and be yourself with appreciation for the differences that make you unique. Being an original or one of a kind is a wonderful thing. Just think about how much value the world puts on Michelangelo's Sistine Chapel.
You are even more priceless and unique. Other people may attempt to convince you to conform your individual differences, values and principles, but do not let go of yourself in order to please others and fit in with the crowd. Live with integrity and "to thine own self be true."
This is the weekly post where I spotlight my Rockin' Friends who are the Top Nine active participants and loyal followers in my community! If you want to be mentioned here next week, then all it takes is to come in and start chatting with everyone in my community.
With a big thank you for their participation and friendship, here are the Rockin' Friends this week in order of most participation:
This week the special spotlight is shining on Paula of Love is a Journey. Paula's blog is summed up as follows:
"This is about us – our journey with all the bumps in the road, this Mars Venus thing, international misunderstandings, cultural clashes, difficulties with Immigration, our hell & heaven, frustrations & fun, likes & laughs. Our story. Our journey."
Paula and her fiance' Skip both publish posts in the blog which gives you different perspectives on the same relationship.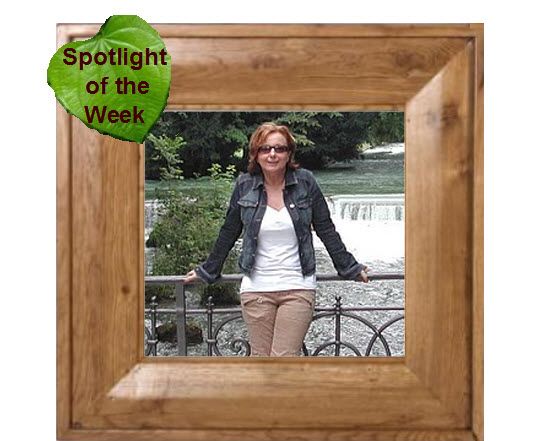 Paula and Skip live in different countries and if they were ever going to get married, had to decide where they were going to live as told in Love Is Where The Heart Is Is it going to be Germany or America? It was many months before they finally decided and in this Goodbye post we finally find out. In the same post, she also reveals seven things about them and I just wish Paula would teach my husband number three!
You already know that I think true love is beautiful. When Skip says,"It is a wonderful reminder when I start the day that this incredible woman loves me," I thought it was very romantic. It was just as romantic as what Paula had done for him.
Valentines has always been one of my favorite holidays even as a child. I would say that Days In Paradise was definitely a fantastic gift to each other to commemorate their love.
This winter comparison simply cracked me up! I know the sentiment well since I moved from Texas to Virginia to escape the horrid heat. And this summer…yeah, I sweat like an Olympic marathon runner.
I totally agree with Paul's statement in Discovering Anew…."Its a wonderful feeling, one I hope we never lose as we grow old."
I'm sure you'll want to read about Excitement and laugh with Paulaisms , but not at Paula. Last but not least 10 Things I Love About can remind us to never take each other for granted.
I'm so glad that I've been able to get to know Paula better since she has become active in my community and by reading her blog. Be sure to add Love Is A Journey to your blogroll, but also come over and chat with Paula in my community.
The community challenge this week was an effort to become better sales people with a definite plan of action involved. Thank you to all the participants for working so hard at making the community a success and challenging yourself this week. Not only the community benefits, but we all have been able to support and encourage each other which is invaluable.
The winner of the challenge is:
Congratulations Kristi! A warm thank you for being our Rockin' Friend badge! We all appreciate the effort you have made to get to know us better and the support you have shown in our individual blogging efforts.
For everyone mentioned in the top nine this week, feel free to grab the Rockin' Friend badge below and thank you for your participation!!
Until the spotlight next week…Happy Chatting Rockin' Friends!
Don't forget to add your blog URL to the Linky at
Woo Us To Your Blog and learn blogging tips that will help you have a polished blog and to increase your traffic! This week it is all about Bookmark Link Sync which helps me not worry if my computer decides to crash.
Until next week…Kiss your family, hug your friends and don't forget to be the friend you would like to have around.
He loves me. He loves me not. He loves me…