I'm different in many ways, so this one might gross you out. Pretend that you are on an airplane and reach for that little vomit bag if you have a weak stomach.
I love sandwiches, but often they just don't have enough interesting things on them that crunch. So I add water chestnuts, cucumbers, celery, lettuce, carrots and sometimes even chips.
The crunchy chip crunch is what I did today. I added many layers of smoked turkey on fresh multiple grain bread with a layer of hot and spicy chips with cheese.
Each bite definitely had a crunch.
I wrapped the whole sandwich in a napkin as a memory of my mother flashed through my mind.
Mom made my lunch when I was young and I happily went off to school each morning with a bag full of her love. Not often, but every once in a while I would get to the end of a sandwich only to discover mold on the bread.
I was always so grossed out!
Obviously, it didn't kill me nor did I ever get sick, but it left an indelible memory which I find quite funny now.
Some things don't change.
Mom makes her husband's lunch each day and recently he enjoyed the same moldy bread lunch event that I did so many years ago. It didn't phase him in the least.
After Mom shared her mortifying experience and hung up, I couldn't help but laugh. She really is just so cute and such a good person. Obviously, I love her dearly and the silliness we have experienced over the years are some of my fondest memories.
Anyway, my sandwich today was void of all mold and I didn't miss it.
For the first time in weeks, I was actually hungry and in my usual fashion, I was inhaling my meal with minimal chewing required.
Eventually I got to the point where I needed to peel back the napkin so that I could eat the rest of the sandwich.
There it was…gaping. It laughed at me and said, "So you are so afraid to eat mold, but you munch down on napkins just fine."
Yes, I had eaten part of my napkin and was completely oblivious to not only biting it, but also chewing and swallowing it. On second thought, I wonder if I did chew it.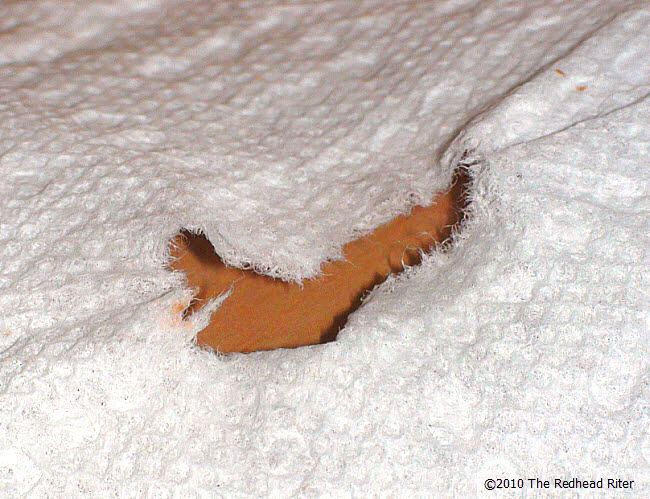 I apparently get my fiber one way or the other.
Does wood fiber count?
Oink!