I have an obsession.
I love to day dream about it.
Feel it.
Taste it.
Play with it.
Experiment with it.
I even love to just look at it.
This amazing obsession that I do not get to indulge often enough is deliciously rich and flavor filled ice cream. When I was a teenager, Mom had a big wood ice cream maker. She would fill the metal canister with the ice cream mixture, put on the cover, attach the motor to the top, surround the canister with ice and rock salt, turn it on and then have me stand watch to keep the hole in the side unclogged to drain the melting ice as the mixture churned into a heavenly concoction. Although it was extremely delightful, the ice cream would always take so long to make and would be eaten up so quickly!
Eventually, I grew up, got married and bought my own heavy and cumbersome ice cream maker which I used over and over again. I made ice cream so often that eventually the canister rusted and the wood started splintering pretty bad too.
Because it was such a mess with the water draining out of the hole, I didn't buy another ice cream maker until…
I saw the Cuisinart Frozen Yogurt, Ice Cream & Sorbet Maker. Let me just say that I couldn't buy it fast enough and now my freezer always has a fresh batch of the most tantalizing flavors of ice cream my mind can imagine. As Karen Carpenter once sang, "I've only just begun!"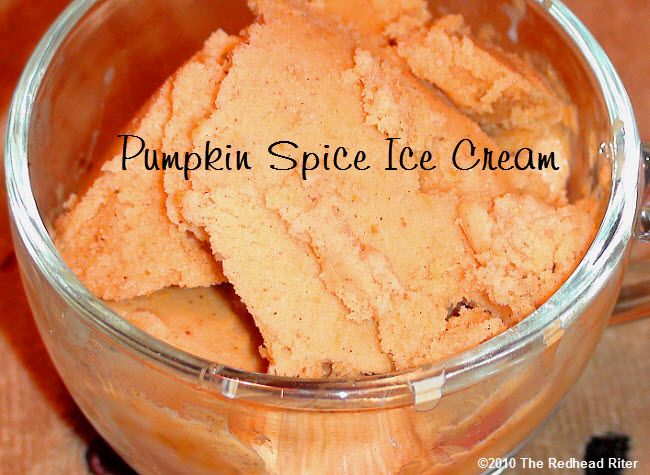 This little machine is still amazing me. It only takes 30 minutes to make a batch of ice cream and there are very few things that I have to clean up when it is finished churning. I love to watch all the ingredients through the hole in the top as they mix together until it gets thick and officially turns into ice cream.
Because I was high on the sugar from the ice cream and because I think you are just phenomenal, I bought another ice cream maker just for my lovely readers. You too can experience frozen heaven in your bowl with your very own Cuisinart Frozen Yogurt, Ice Cream & Sorbet Maker.
Mandatory Entries:
1. (1 entry) Publicly Follow on Google The Redhead Riter and leave a comment telling me you are already a follower or that you are a new follower now.

2. (3 entries) Leave me a new comment on a "Non-Giveaway" post and then come back to this post and leave a comment telling me that you did – I changed the archive in the right side bar to list the names of my posts so that you can choose one that might be of interest to you..
Extra Entries:


1. (2 entries for each giveaway) Enter any of my other giveaways (shown in the right sidebar)
2. (2 entries) "Like" The Redhead Riter on Facebook

3. (1 entry) Follow @RedheadRiter on Twitter at http://twitter.com/TheRedheadRiter

4. (1 entry per Tweet) Tweet about this giveaway using the tweet below…(can be done 3 times per day

"RT ? #giveaway #win #prize CUISINART Frozen Yogurt, Ice Cream & Sorbet Maker @ http://TheRedheadRiter.blogspot.com ENDS 11/28 EASY ENTRY?"
5. (1 entry) Fave me on Technorati

6. (20 maximum – 1 entry for each comment on non-giveaway post) Leave me a new comment on a "Non-Giveaway" post on TheRedheadRiter (http://theredheadriter.com) then come back and leave the name of the post. All the little square pictures above my header are linked to posts too.

Additional Information:
Giveaway is open to U.S. Residents Only, 18+ years old.
Giveaway ends November 28, 2010 at 11:59 p.m.

I will use Random.org to choose the winner.
***Remember, one comment for each thing you do…
Example:
one comment: I follow on FB
one comment: I follow on Twitter
one comment: I commented on the post called "Equals 30 lbs."

Screaming for ice cream,