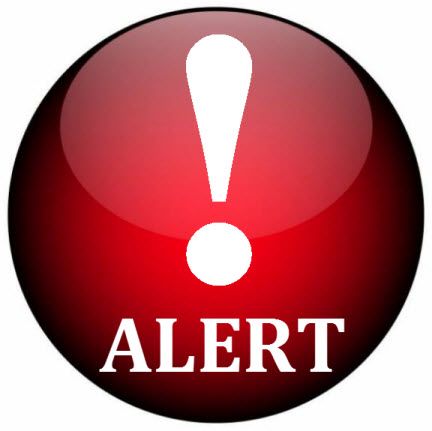 Today we are going to chat about something that is fun.
Google Alerts
What is a Google Alert?
Google offers a content monitoring service that automatically notifies users of new content on the web. They call these notification Google Alerts.
What new content?
You set up the alerts that you would like to receive and they are the only notifications you will receive. Any time that your "alert term" is found in news, blogs, web, video and/or discussion groups, you will receive a notification.
What is an alert term?
An alert term can be anything. A few examples might be your Twitter name, blog name, a famous movie star, your real name, the name of your company, child's school, or key words such as coupon, cabin or beach front property.
How will I be notified when the new content is posted?
Notifications are sent the way you want them to be sent to you via email, as a web feed or displayed on your iGoogle page.
Let me show you how this all works…
First, type Google.com to get to the main Google page. On that page in the top right hand corner you will see a place to sign in. If you already have a Google account, sign in using that information. If you do not have a Google account, you will be prompted to create one.
This is my Google account settings page. You can click it to see more detail.
Notice the big red circle. When you click on ALERTS it will take you to the Google Alerts page where you set up your desired alerts.
Start by determining which term you want to choose as an alert. Type it in the "Search Terms" box.
Now choose the type of information on that term that you will find of interest. Your choices are: Everything, News, Blogs, Updates, Videos or Discussions.
So if you choose "Blogs" then you will only be alerted when the term appears in a blog – any blog on the internet. It could appear in a video too, but you will not receive an alert for that because you chose "Blogs" only.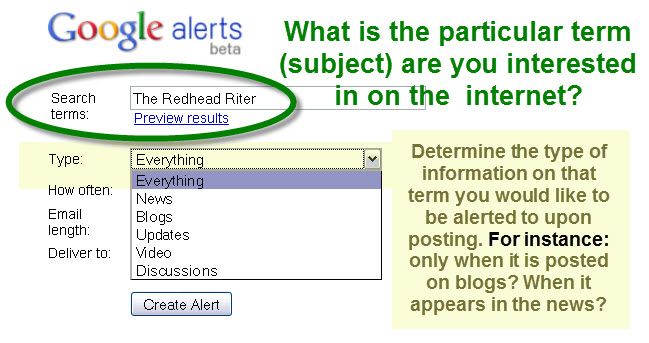 How often do you want to receive alerts? Your choices are: as-it-happens, once a day or once a week.
How many alerts do you want to appear on one email? Your choices are: up to 20 results or up to 50 results.
Where do you want the alert delivered? Your choices are: an email account or a feed.
Double check your choices and click "Create Alert."
To manage your alerts, on the main Google Alert page click the link "click here to manage your alerts."
You will be taken to a page that lists all your alerts with their various criteria.
If you want to create another alert, just click "New Alert" and you can start the whole process over again.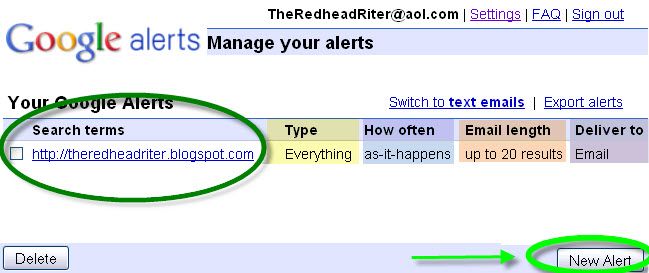 If you choose "email notification," it will appear in your email and look something like this for each term or alert that you have chosen:
That's the whole Google Alert process. They can be fun and helpful, so take your time and thoughtfully create Google Alerts.
The last "Woo Us To Your Blog" post explored buttons and badges to advertise your blog. Do you remember the message or are you totally involved in setting up Google Alerts?
As always, attached is the weekly Linky to enter either the main URL to your site or add each post you publish throughout the week. You don't have to do anything special, just drop your link in and get a little extra exposure to your site.
Until next week's wooing post, have fun creating Google alerts and getting the results in your email all week.
Creating an alert for "ice cream" and feeling better already,