Welcome to "Tell The Truth Thursday" where the question that has been posted in my right side bar gets answered by me and you! Did you prepare your post and are you ready to drop your URL into the Linky so that we all can follow? Grab the thumb above linking it back to this blog posting and let's get started…
The question this week is :
Did you have a wonderful wedding day? Would you change anything? If you're not married, describe your ideal wedding day.
Unfortunately, I have been divorced. I think the whole concept and meaning behind divorce is sad, but it happens and because of this, I have now been married twice.
At the young age of 21, I was married to Alyssa's father. During the many months preceding the wedding, I made my wedding dress. Even with all the preparations, on the eve of my wedding day, we were still sewing on the lace appliques on the train. Funny to think of that now.
I felt beautiful, young and happy that day and a little fearful. We didn't have a big wedding or reception. I don't think either of us wanted to bother with a whole lot of details; we just wanted to get married and get on with life.
The pictures were not readily available today, but I found a few snapshots to prove that I actually wore the wedding dress I made for my first wedding. Obviously, the photos don't do justice to a dress that took many hours and had over one hundred pieces of fabric to sew together.
pic 1 I love the point on my sleeve
pic 2 That is my sister hugging me with my hat veil
pic 3 At our wedding reception
Then I pulled out the dress which I still have at the top of my closet and took a few photos up close.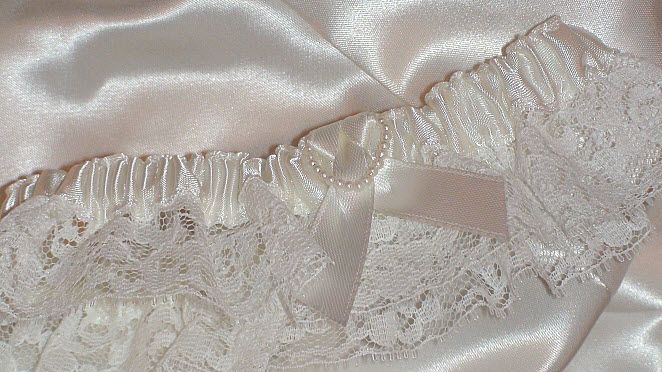 Little heart on my garter belt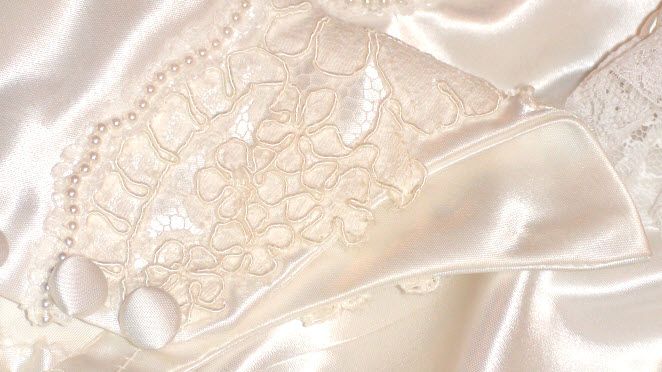 The point on my sleeve that went across the back of my hand
Pearls and thick Italian lace all over the dress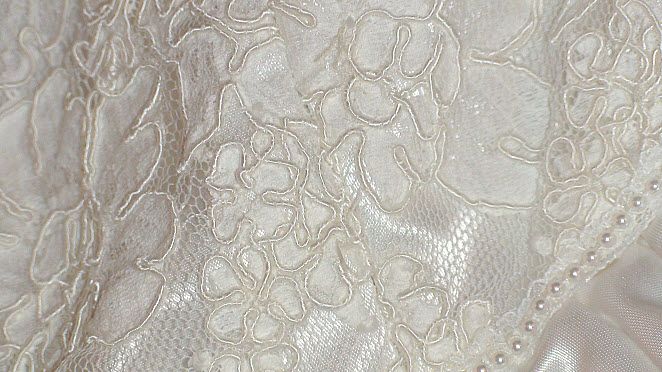 A lot of hand sewing
I love the sheen of heavy bridal satin
Buttons went all the way down the back
The hem was lace all the way around and was sewn on by hand
A simple high collar with lace and pearls
Lace, lace and more lace
Pearls, pearls and more pearls with yards and yards of fabric

Twenty-one years later, I guess I still had the same attitude because my second wedding was at the Justice of the Peace. Not a big ceremony, no guests and no celebratory details to figure out.
Would I change anything?
Yes!!!!
I would definitely:
finish my college education before I got married the first time
wait until I was older the first time
wait until I knew my second husband better
include my family at the ceremony the second time
hire a photographer for the weddings
add sequins, jewels and more pearls to my dress
have extravagant shoes with six inch heels
ride in a limo with my family to a wonderful meal in a fancy restaurant after the wedding
have a honeymoon both times, once on the beach and once in the mountains
I guess with age, I have changed and would do things differently. That's not such a big surprise.
"Love does not consist
of gazing at each other,
but in looking together
in the same direction.
~Antoine de Saint-Exupery~
Weddings can be such lovely celebrations!
Now it is your turn to answer the Tell The Truth Thursday question. Enter the post URL that answers the question in the Linky below and have fun checking out everyone's answers…