Putting on a medical gown that is more open than closed today had a huge part in contributing to my future health.
Let's start by saying, I hate going to the hospital or seeing a doctor for medical reasons. When I'm really, really, really sick, then I'm thankful for their expertise. Otherwise, I try to steer clear of them until it is necessary.
There are two really important facts that make this post even worth reading…
I am a woman
My dad has two kinds of terminal cancer with a zero cure possibility and is just trying to die with some semblance of dignity
Those are the two reasons that I went to the doctor today.
Early diagnosis of cancer often proves to be one way of eradicating it through removal and treatment to increase the number of years we get to enjoy life, family and friends. That can't happen if you don't visit the doctor. In this case, ignorance is not bliss.
Do you know about comedian Kathy Griffin's latest push to fight cancer? Well, I watched her on television and realized that dramatic actions often can wake people up.
She was dramatic.
With the cameras rolling, Kathy Griffin had a public pap smear to raise cancer awareness and early diagnosis in women. Yes, she did it at pool side with everyone watching. You couldn't see her private parts, but it took place nonetheless.
Although you may not approve of her methods, I know that many women who are fearful of such a procedure before watching her, realized that there was nothing to fear after watching Kathy.
I like her poster and wish that I could plaster a hundred of them on the front of Dad's house.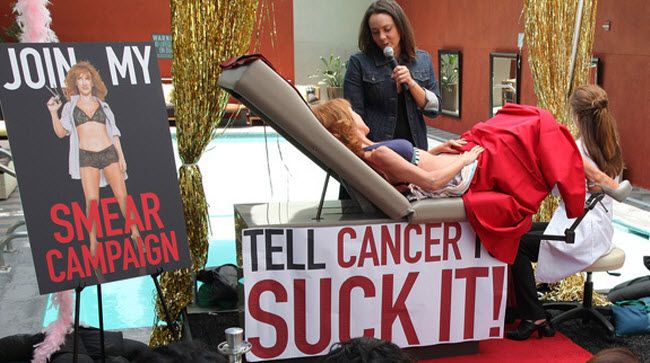 Images: The Huffington Post
So today while waiting my turn in the doctor's office, I thought about how lucky I am to live in an era where modern medicine can help us to take great care of our bodies. It often solves our problems and helps us to live longer…but not always.
Early detection is the key to ridding the body of many types of cancerous growths.
Ladies, please don a medical gown soon if you haven't had a pap smear in a long time. All the men out there? Yeah, you too need to go have your own kind of exam. Prostate cancer is just as horrible as cervical cancer and can also be detected early. The medical gowns may be almost pointless, but the exams could be life saving.
Dad had prostate cancer years ago. So long ago that I really thought it would never come back. Now that cancer has come back…well, it took over fast and with a vengeance. The doctor said to imagine the spot of cancer on his lung like a flower bud. It grew a little, opened and then let the pollen go all over his body. The pollen that went to his pelvis developed into another kind of cancer.
Rather grim when I think about it, especially since in just a few short months it has taken over his life. He barely can use a walker because his hips are turning into cancer mush. Hospice visits him daily. He is starting to lose weight. The morphine they give him has been increased several times to help with the pain. He has basically lost his appetite and become completely reliant on other people.
The whole thing is just awful for him.
This morning I talked to him a long time before I started work. He sounded so sick and yet, he still laughed and cracked jokes.
There was nothing different Dad could have done to stop this from happening to him. He was tested every couple of months to make sure he didn't have a recurrence of this horrible disease. The moment the doctor found the cancer was almost the moment it came back.
It is just too strong and aggressive this time.
I still can't cope with the fact that he is only sixty eight years old and that shortly, I won't be able to pick up the phone and call him.
This morning he said, "Be careful driving because if you were to die, I would just crawl in the coffin and let them close me up with you. I just don't want to have to live through this cancer mess."
Kathy Griffin is right.
I want to tell cancer to go suck it too.
It took me a while to reapply my makeup and get my red face to go away so that I could go into work today. But as I walked into the building, I knew that I was going to write this post and say…
Take care of your body now. Don't procrastinate. Enjoy your health and do all you can to enhance the health you have because it could be so much worse.
You could be like Dad.
No hope of enjoying holidays, cooking a new recipe, driving to Virginia to visit me again or seeing grandchildren married and having babies.
I don't know how long he has left to live, but I don't want him to suffer any more and I pray that he will go quickly. Thank you all for continued prayers on his behalf. Your overwhelming support during this most awful time of grief is very much appreciated and so much more than you can imagine.
Go have your exams.
Do it for you.
Do it for your posterity.
Do it for everyone like Dad who have only a short time left on this planet.
Just do it.
No, I did not get vagazzled,My mother is saying, "What is vagazzled?"
I think I hear my phone ringing now and I'm sure it is her.