"All the thoughts of
a turtle are turtle."
~Ralph Waldo Emerson~
I can't always look my best and actually, I don't really care to either. Frankly, it is just too hard to keep every curl going the right way, makeup covering all the flaws, nails painted, legs shaved, etcetera, etcetera, etcetera! It is not easy being a woman!
When I come home, I like to rip off the clothes, shoes and jewelry so that I can put on comfy pajamas. I always feel like saying the same thing when I walk through the door…
There's no place like home.
There's no place like home.
Throughout the year, things happen to my body and parts need more care than others. Rather makes me sound like a car, doesn't it? There are times that I need to slough off the old in order to enjoy the new. Products like face masks, nail files, clippers, lotions and heel pumices are totally necessary for these almost ritualistic grooming measures.
That is exactly the condition that I find Turtle in right now. He's shedding the old shell to prepare for the new, so his colors are a bit dim and his shell is rough.
Turtle isn't fond of having his picture taken on a good day, but he especially hates it when he's sloughing.
Yes, I know what Turtle thinks!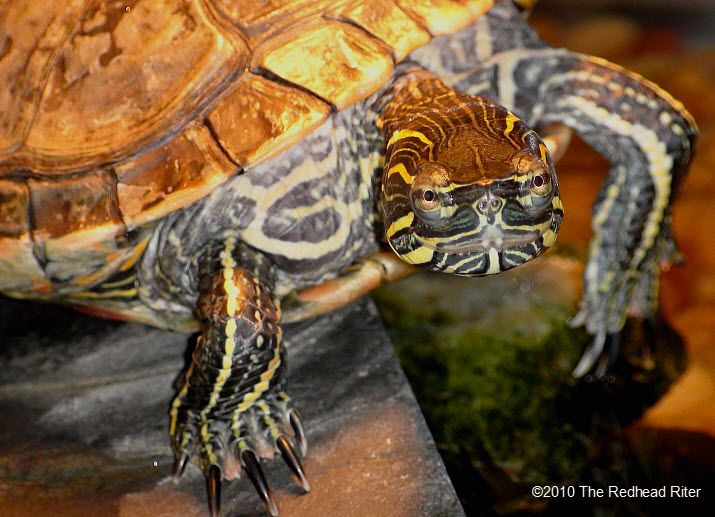 I'm glad he can't get out of the tank or talk because he would probably have a few choice words to say. It would be like me taking your picture while you're wearing a face mask and getting your hair colored.
I would hide in my shell too.
Can't you relate?
Sincerely Turtle's Mama,