I have been an avid reader as a student, individual, aunt and mother. Reading helps to develop so many aspects of your personality as well as improve and develop life long skills.
As a small child, I was taught to respect the written word and books that kept them safe and organized. Book Fairs and the library were the most exciting places to spend hours akin to amusement parks.
Even the JC Penney catalog was kept in pristine condition until a new one arrived. But when it was ready to be discarded, I would have paper doll heaven. I cut with the little round nosed scissors until the imprint in my finger hurt. The thrill of creating my own paper world fulfilled my creative desires.
Su Blackwell, as Emeril Lagasse would say, "Kicked it up a notch!"
In her own words, "I often work within the realm of fairy-tales and folk-lore. I began making a series of book-sculpture, cutting-out images from old books to create three-dimensional diorama's, and displaying them inside wooden boxes."
With this collection, you won't even feel a loss at not being able to read the books.
I promise.
Hope (left) and (right) Down The Rabbit Hole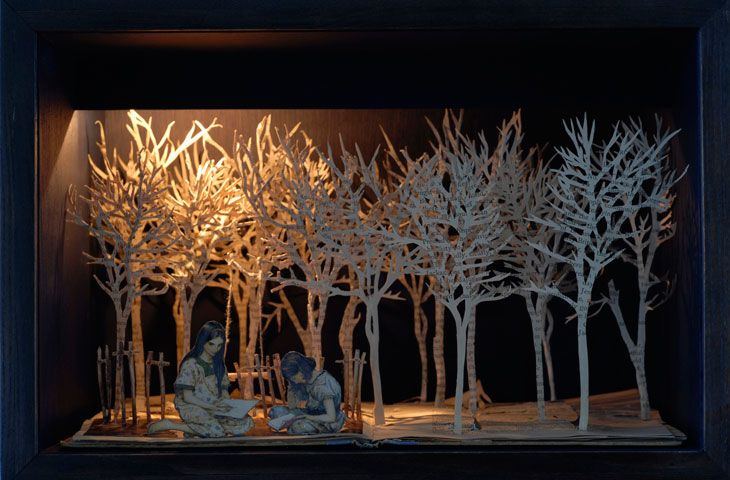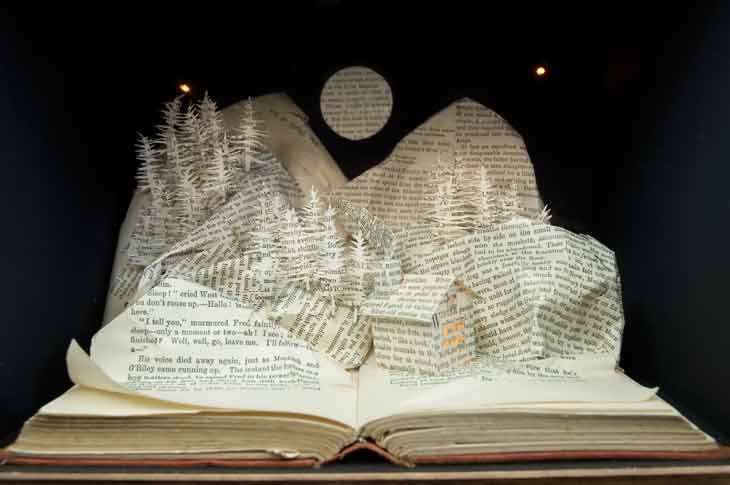 The Twelve Dancing Princesses
Did you ever imagine a cut up book could be so creative and beautiful?
I didn't.
Her works of art put my JC Penney based paper dolls to shame, but then again, that comparison isn't even fair even considering the vast age difference. Su obviously has an abundance of patience and a great love of paper because she cuts each piece by hand.
I will always cherish the innocent era of playing in my grandmother's bedroom with paper doll homes spread out from her cedar dresser so shiny and clean, all the way over to the corner of the room next to her side of the bed that always smelled of powder.
Cut out advertisement models and furniture made of paper laying flat on the floor, but in my imagination they were talking, laughing, cooking, sleeping and walking to the neighbors house.
Childhood innocence and creativity is so wonderful.
When we can grow up and let our wildest imaginations bloom from paper dolls to works of cut out book art, it just proves that life can be an exciting adventure!
Don't you agree?
Sincerely,
A paper doll pro,