The ants go marching one by one
WAIT!!!
Do you remember what the next couple of words are to that song?
The ants go marching one by one, hurrah, hurrah!
Hurrah?
We are supposed to be excited about ants?
I don't think so-o-o-o-o-o-o-o-o-o! Not for the rest of my life will I ever be happy to see an ant because of that horrible experience years ago. Ants always seem to appear where and when they are not wanted…like a broken bra strap on the first day of a new job or gum on the bottom of a shoe!
Ants are simply pesky and aggravating.

When can you always rely on an ant to show up?
At picnics.
I love, love, love picnics as much as Yogi Bear. So Yogi and I have something in common. We love those pic-a-nic baskets and the delicious food inside.
I found some glorious picnic baskets at 1001 Picnic Baskets.com and thought that I would share them because picnics are not that much fun alone.
Come on over here and sit down next to me. Here, do you want some fried chicken and potato salad or would you prefer a veggie roll with pasta salad?
Both? Alright…
There. Are you comfy now?
Okay.
The key word for me in this first basket is "collapsible" because I simply run out of room to store big items in my home. Finding something cute, big enough for a picnic, insulated to keep the cold air inside AND collapsible is simply wonderful!
Cute, huh?
If you're like me, cozy little picnics for two are rare which is really quite alright because more is merrier in my opinion. Since my family is larger than two, a picnic basket for four does nicely.
However, being the "Shopper That Isn't" which is akin to the "Little Engine That Could" in a weird opposite sort of way, I haven't looked at picnic baskets for years and years. Well, not until recently and I definitely let my fingers do the shopping instead of my feet.
I'm so much happier when I can shop in my pajamas.
Anyway, I think Yogi would go crazy over the cute picnic baskets that are available in 2010!
Take a peek…
Don't you love that olive green color?
Redheads look good in, on or with olive green.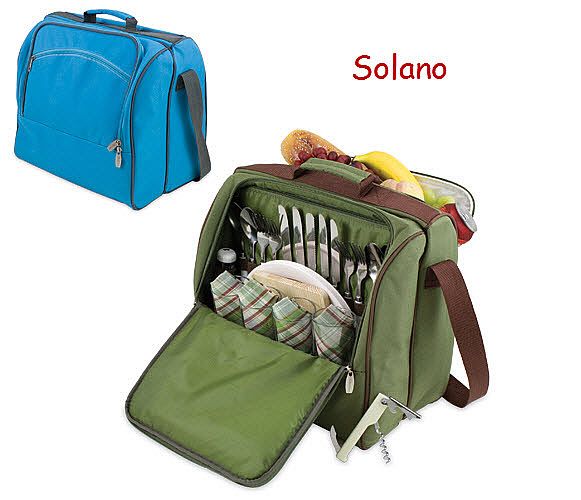 Look at all that room in the big open pocket!
This one is definitely my daughter's pick.
It is trendy and hip!
I love the little cutting boards!
I love the little roll connected on the side.
It says, "I promise we will sit and relax together."
Not literally, but that is what I hear in my head.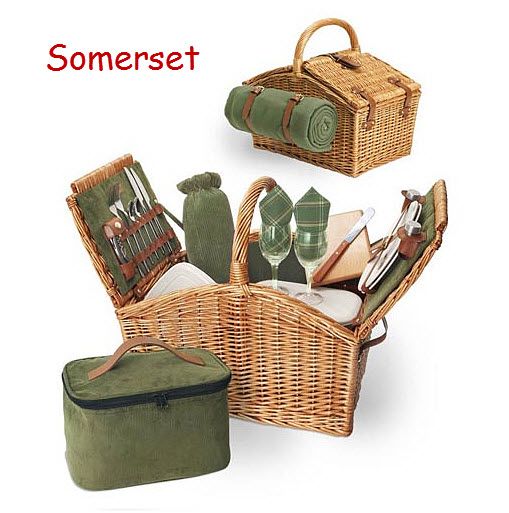 Kissy, Kissy, Huggy, Huggy
Wouldn't this make a great anniversary gift too?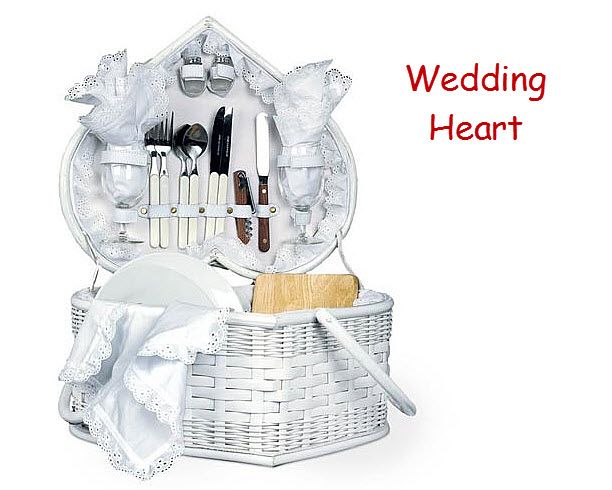 Be still my beating heart…
Isn't that just elegant?
Maybe I have a bit of Scarlet O'Hara in me…
I never gave up having picnics when Brittany and Alyssa were little girls. I would pack tons of food and games with a pretty tablecloth and a whole lot of determination to combat the elements.
We always had lovely picnics, but some of the most common things heard at our jaunts was…

"There's a bee!" screamed Brittany as she ran as fast as her tiny legs could carry her.

"Mommy, make the fly go away," spoken in an Alyssa pouty voice.

"Kill the ant! Kill the ant! It's going to get my food!"

"Ewwww, there's bird poop over there!"

"I don't want to sit on the ground. There might be bugs hiding in the grass."

"I'm hot."

"How long do we have to picnic?"

"Why do you like picnics so much? There's so many bugs and it's hot!"
Am I exaggerating?
NOT ONE BIT!
I laughed as I recalled their tiny freckled faces in the shade of trees in the hot Texas sun.
Not too long ago we had a picnic and I kid you not…
Both girls were obsessed with the ants that kept crawling around their shoes.
Prissy girls will always be prissy girls!
Do you go on picnics? Visit 1001 Picnic Baskets.com and tell us which basket you would love to own! Share a picnic story or leave a link to a picnic story you have posted on your blog.
Stretching back on a blanket in the grass
with the Windsor Picnic Basket,
staring into the big blue sky with puffy white clouds,

"Girls, it's time to go! An ant just bit my foot!"
Well really, where did you think they got that attitude?
***I was compensated by 1001 Picnic Baskets.com for reviewing their site and writing this post. However, my opinions are always honest and I really do love their picnic baskets. Thanks 1001 Picnic Baskets.com for the opportunity to brag about you!