No, this is not the back of my head. Looks like it a little bit doesn't it?
This creature has a little brown nose that sniffs continually.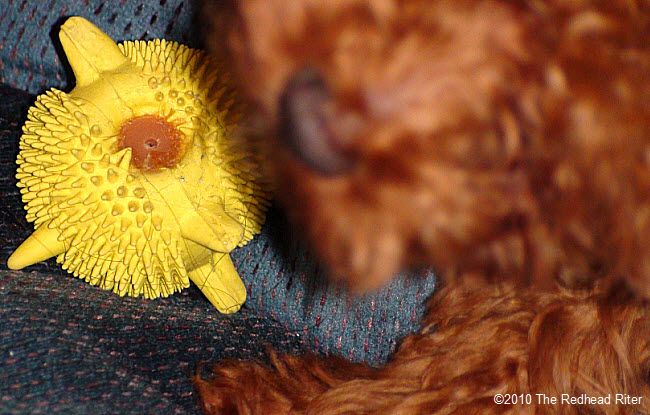 Bella has grown quite a bit since her last visit to my blog. She loves to chase the yellow squeaky ball and "Granny" (That's me – I want to be called Granny some day to my grandchildren) plays fetch with her while "Mommy Alyssa" goes on dates.
Of course, not everything can remain intact after being chewed on for hours,
but turquoise noodle dog keeps on smiling
.
Maybe turquoise noodle dog enjoys having Bella chew off her tag.
Squeaky toy and turquoise dog gets old after a while, so Bella visits "Mommy Alyssa"
and shows some love for the laptop.
Maybe Bella just wants to be near her mommy.
Aha! She was just trying to get close enough to chew on her favorite toy which Alyssa let's her do. "Isn't she so cute," Alyssa will say. I just keep thinking, I wonder how cute she will be when one day Alyssa forgets and leaves her laptop within reach of Bella.
I don't think it takes much of an imagination to figure out what those pearly white teeth are going to do! That will be Alyssa's first big lesson in "motherhood"…

BE CONSISTENT

!
Can't you just see that wicked little gleam in Bella's eyes?
I'm sure she's thinking….
"Some day. Yes, some day I'm going to get this laptop alone and it will be mine….all mine!"