If you're like me, it is hard to escape all the unwanted emails filled with information that I do not want to read. I immediately consider all of these communications as spam.
That's an interesting word.
Spam.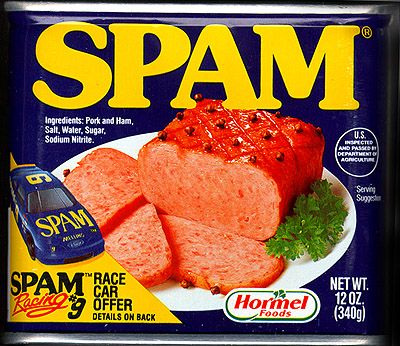 Last week my mother (a steadfast lover of
SPAM®
the meat product) offered my daughter (the princess of health conscious eating) some fried SPAM® slices with mustard.
My daughter told me later, "I almost threw up Mom! How can Nanny eat that stuff?"
I couldn't stop laughing. Alyssa has no idea that when I was younger, my mother used to fry SPAM® for breakfast and we would cover each piece with bright yellow mustard, slap it between two pieces of bread and off we'd go. Mom also would fry it for dinner with potatoes, beans and a big fluffy biscuit on the side. We loved it!!!
So here are a few interesting facts about the meat product called SPAM®.
approximately 90% is chopped pork shoulder meat mixed with ham
approximately 10% comes from the pig's buttock and thigh which is also called ham
U.S. Department of Agriculture does not permit any nonmeat fillers, pig snouts, lips, or ears in lunchmeat
the other ingredients are salt, water, sugar, and sodium nitrate (preservative)
SPAM® can also be carved into art. There are even contests to find the best SPAM® carving.:
Image: source
I just KNOW that Alyssa will want one of these iPods! I mean really, don't you want one too?!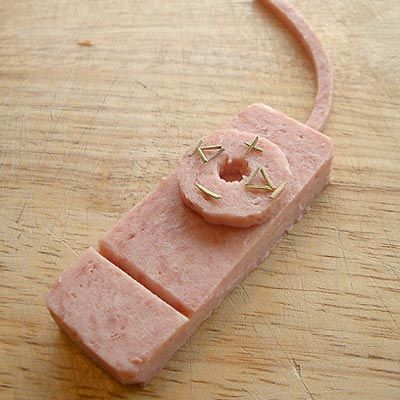 Image: source
Don't worry about being able to cook with it. I have the perfect recipe for you called Oriental SPAM® Risotto
Image: source
Doesn't it make you totally forget about your email spam?
Oh my goodness! Did I just see you throw your computer mouse down and run into the kitchen to start cooking that recipe?!