Welcome to

"Tell The Truth Thursday"

where the question that has been posted in my right side bar gets answered by me and you…and sometimes my husband too! Did you prepare your post and are you ready to drop your URL into the McLinky so that we all can follow? Grab the thumb above linking it back to this blog posting and let's get started…
The question this week is quite simple:
Tattoos? Piercings? How many? Story behind them?
The main thought to remember while reading my answer is that I do not like pain. If you keep that in the forefront of your mind, it will all make sense.
In my opinion, all things can be taken to extreme including piercings…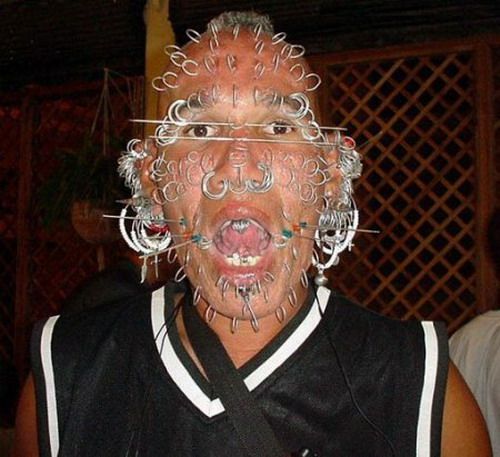 and tattoos…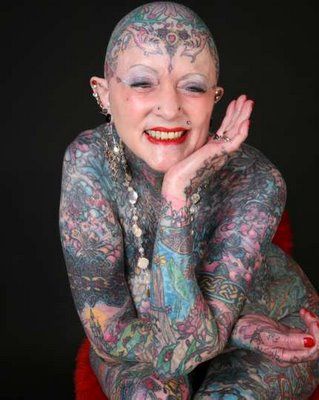 Isobel Varley is known as the

World's Most Senior Tattooed Woman

in the

Guinness World Book

. I went to
her site
, read her story and looked at all the photos. She has EVERYTHING tattooed which nearly made me pass out. There is also a photo of Isobel before she had any tattoos.
I do not have any tattoos.
When I was eighteen years old, I decided to get my ears pierced. It took me a long time to work up the nerve to go. I still remember the little building on Matlock Road with "Electrolysis" boldly printed on a sign.
One summer day I took the plunge into the piercing world. I walked into the building, gave the lady my money and she directed back to a room just like those found at a doctor's office. I sat on the end of the table where my ear lobe was cleaned, sterilized and marked with two dots in preparation for the grand event. I tried hard not to think about anything.
I was a nervous wreck.
I was extremely scared that it was going to really hurt. I DON'T LIKE PAIN.
The electrolysis lady pulled out a large piercing gun which only added to my fear. She swiftly pierced one ear and then the next…
and I immediately fainted.
Driving home I became very sad that I had put holes in my ears. I distinctly remember thinking that I had ruined my body. (You can stop laughing now.)
Nearly thirty years later, I still have two tiny holes in the lobes of my ears which I can only wear 18K gold earrings in or they get infected. It must be something in my genetic chemical make up because my mom and daughter both have the same problem.
Now, it is time for you to tell the truth and link up your posting below!!!!