It's that time again to have some questions answered from a man's point of view. The topic for the

Men's Meme

at

Families Again

is listed below.
My husband, Tom's comments will be in BLUE:
How do you deal with stress? Is there really a good way to do it? Is there a Biblical way? Is there a medical way?
My first instinct is to lash out, yell, isolate – flight or fight. No one is surprised any more to find that stress is a leading cause of disease and leads to high blood pressure, heart attacks and relationship problems.
Biblical remedies require a soft heart, humility and self honesty. Those are difficult conditions for a raging, stressed individual. Gospel practices or remedies are best used on a regular preventive basis with regular prayer, meditation, scripture study, worship and song. This is often referred to as "putting on the full armor."
Thank you for your input Tom. His take reminded me of Maxine's take on stress…
Stress is a huge issue with me, so I know a little bit about it since I'm a worrier. Before you can treat stress, you have to first recognize and identify the source.
The best way to reduce stress is to try to prevent it. Here are a few tips:
Time management: Create a schedule and a To Do List with tasks listed in order of importance. Avoid filling every minute of every day. Allow time for relaxation.
Health: Practice good health by exercising, getting plenty of rest, limiting alcohol intake, stop smoking and eat healthy food.
Coping mechanisms: Talk. Don't keep your feelings bottled up so that you blow up at intervals. Be assertive in protecting your right to not be stressed by others. Communicate your feelings with family, friends, religious leaders and/or a psychologist. Ignore negative comments and people.
Change: Step back and look at the whole picture. Understand that everything changes and you can only control your own actions. Say "no" when necessary for self-preservation. Walk away from volatile situations that try to draw you into drama. Focus on the positive.
Ask: When you need help, ask for it. Strengthen friendships. Not only will it help when you are in need, but it will help enrich your life now.
Relax: Take time to relax. Try new relaxation methods to keep your stress level lower. Treat the time committed to relaxing as important as any other appointment you make for a doctor, dentist or job.
What is my secret for handling stress, you ask?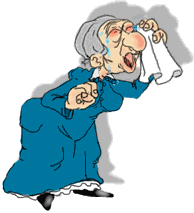 I think that pretty much sums it up, don't you?