It's always work, but if you dedicate the time, the effort is satisfying.
The reality is that because people come into our lives and often leave too quickly, it is important that we make our feelings known to them. Going through the regular routines day in and day out can give us the tendency to take our familial relationships for granted, but there are opportunities to show love each day.
One of the ways that I try to express my feelings for my family is by cooking meals that are not only delicious, but also nutritious. I say that in all humility because I'm not Emeril, but I'm not too bad either. Since I love to eat yummy food, I knew it was necessary to learn how to cook well. Sometime during my twenties, I shifted from flavoring with salt pork and cooking things to death to using a little dab of olive oil, fresh spices and lots of veggies. So now if I want a great meal, it is only as far as my kitchen.
In 2008, I gave everyone a recipe box filled with our family recipes. There is a huge advantage in teaching children to cook…eventually, you reap the benefits of eating delicious food without having to cook it.
In this case, Alyssa cooked the chicken and I made the Zucchini-Squash Muffins.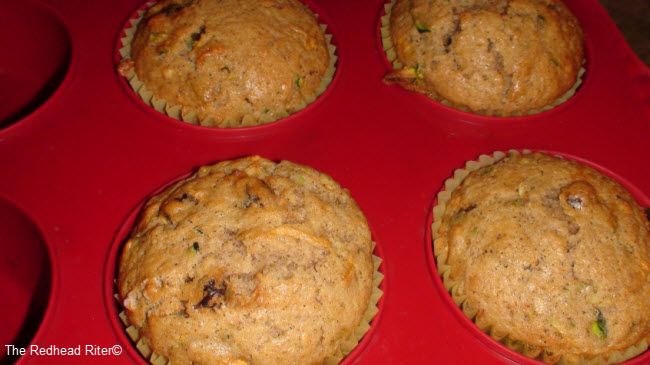 Wasn't that delicious?
You didn't try it? Why not?
(snicker, snicker)
All kidding aside, here is my personal recipe. I hope you bake them and enjoy!
Zucchini-Squash Muffins
Ingredients:
2 cups fresh zucchini, grated
1 cup fresh squash, grated
2/3 cup butter, melted or canola oil
1 1/3 cup sugar
2 eggs, room temperature, beaten
2 teaspoons vanilla
2 teaspoons baking soda
1/8 teaspoon salt
3 cups all purpose flour
2 teaspoon cinnamon
1/2 teaspoon allspice
1/2 teaspoon nutmeg
1 cup raisins, not plumped
Directions:
Preheat oven to 350 degrees
Combine sugar, eggs and vanilla in a large bowl
Stir in zucchini and squash
Add butter and mix
In another bowl combine salt, baking soda, flour, cinnamon, allspice, nutmeg
Add the dry ingredients to the zucchini-squash mixture and stir completely
Add raisins and combine
Add 19 muffin papers to cupcake pans
Spoon dough into cups
Bake approximately 25 minutes on the middle rack of the oven
Test for doneness by inserting a toothpick in the center of a muffin; it should come out clean
Cool for 10 minutes on racks
Serve hot

Cool completely before storing in an airtight container