It's true that only three words can cause you to laugh hysterically. Let me explain.
I've been to just about ever state in the United States and there is something beautifully amazing about each one. When Alyssa was younger, I needed to have a game that we could play in the car that held her interest, didn't require any game pieces and added to our interaction with one another.
I have always loved words. Not necessarily speaking them, but how the letters are arranged, the definitions and how the combination of words can convey our thoughts and feelings to one another.
Always looking for opportunities to teach my daughter, I created a fun way to assist her in letter recognition, imagination, spelling and grammar while we traveled. I call it the License Plate game and it can be played on a short trip to the grocery store or on long vacations.
This is how it works…A license plate usually has at least three letters. Each letter is used as the first letter of a word and the three words should make a statement. As an example, if the letters on the license plate are YSH, then my words in the statement could be "You're So Hot" or "Yucky Spinach Hoagie."
Here are a few more:
Not Gonna' Sing!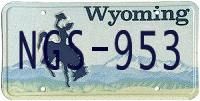 Naked Little Babies
Kisses Are Yummy
Pick My Nose
Over the years, our laughter has rocked the car. Many times we have laughed until our sides hurt and tears streamed down our faces because of the funny word combinations we created. Alyssa has quite an imagination! There were even times that we choked on our drinks or the liquid rushed out of our nose because someone unexpectedly blurted out three words that were absolutely hilarious. Like I said, this game has been a blast for my family.
I thought we would have a little fun today. Let's pretend we are traveling together in a car playing the License Plate game. Post your word combinations in the comments and let's enjoy our creativity. Post as many as you desire for each license plate. You will see that the answers can be very funny. Here we go…