Before I start my post, I just want to wish all my blog followers, visitors and friends, Happy Mother's Day!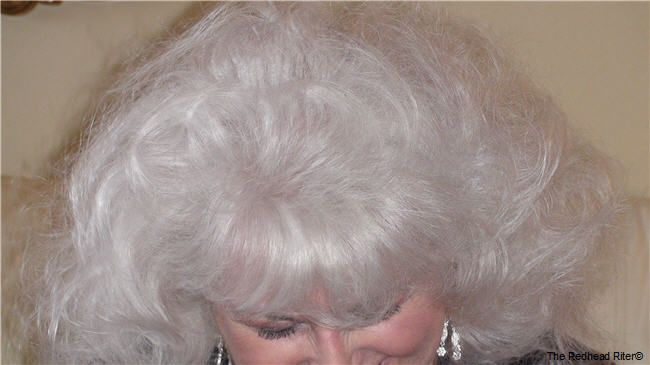 I love Mom's hair.
Not only is her hair beautiful all the time (Yes, it is Mom!), but when I need to find her in a crowd quickly, it is a piece of cake finding her beautiful, shiny hair. I've never known anyone her age with hair that is so alive. When I was younger, her hair was black and she wore it in the same style as Marlo Thomas in the television series called That Girl. Do you remember it? Straight with a little bit of teased puff, bangs in the front and flipped up in a curl all the way around her head. It used to tickle my nose when I slept in the middle between you and Dad.
Ah, fond memories.
Mom, I love you.
I know that you hear and have heard that many times, but I truly mean it from the bottom of my heart and soul.
I have so many memories of you and us together…
pink curlers
short dresses in vibrant colors (the style came back)
Andy Griffith in the afternoon
coloring in the lines
sleeping in the middle
dressing up for church every Sunday
canned peaches
sleeping in the front seat with my head on your lap
your hand softly stroking my hair as I drifted to sleep
delicious meals three times a day
your tiny hands
sop chocolate
sincere prayers
shopping and acting silly
beautiful clothes made by you
chocolate pudding
knick knacks
Zorro and my scar
your rocking chair
getting your ears pierced
vacuum marks
driving in silence and without the radio when you learned to drive
trying on clothes you were making with a million pins sticking in the fabric
reading to me each night when I went to bed
crystal
buttered bread
your tanned skin next to my ever white, freckled skin
big, brown loving eyes
the way you love nature
brushing you hair
your sweet voice singing
little notes written on my napkin at lunch
picking me up from school
"new" math
the way you look when you embrace your grandchildren
all things to do with teeth
wallpapering the kitchen
the fruit and vegetable puzzle with a black background that had pieces with three totally straight sides, but you still wanted it put together for a decoupaged picture to hang in the kitchen
milk glass
silk pajamas
ice cream cones
the way you love the gospel of Christ and that Jesus is your best friend
the peace and comfort I feel when you hug me
These a just a few of the million things that make me think of you. On this special day set aside to honor our mothers, I want to tell say…Happy Mother's Day to the greatest Mom who just so happens to be my Mom. I'm so thankful to be your daughter and appreciate all the countless hours you have been in service of your children and grandchildren. I pray that I will have many more years with you because you are not only my mother, but you are also my friend. I hope you have a beautiful day.
I love you.
You can see it in their eyes,
in tender hugs and long good-byes,
a love that only moms and daughters know.
You can see it in their smiles,
through passing years and changing styles,
a friendship that continually seems to grow.
You can see it in their lives,
the joy each one of them derives,
in just knowing that the other one is there…
To care and to understand,
lend an ear or hold a hand,
and to celebrate the memories they share.
Once upon a memory
Someone wiped away a tear
Held me close and loved me,
Thank you, Mother dear.