When you bake a yummy dessert and friends or family come over to visit, being a good hostess includes offering the brood a piece of the masterpiece. I'm a "giver" by nature, so this type of hostess behavior comes to me naturally.
People visit.
I feed them.
They ooohh and aaahh.
I feel happy.
Nothing strange about that scenario at all. My family can attest to the fact that I love to cook for them. Watching other people consume the ingredients that have been precisely cut, measured and baked into a creation from heaven is fulfilling, exciting and a great boost to my ego which takes its share of hard knocks.
Last night, while still being the attentive mother to my sick child, I wanted the house to smell…like home. The kind of comforting place that you would kick your red ruby slippers three times to get back to in a hurry.
Having the country farm life in my DNA, I open the pantry and spy the pure extract vanilla bottle. Perfect! Turning around with the bottle in hand I see three loaves of wheat bread. That's all it took. I new exactly what I needed to bake.
Something simple.
Basic.
Comforting.
Carb-filled.
Sweet.
Warm.
Most of all, it had the ability to fill the house with the smells of home as it baked for seventy minutes.
Bread pudding with the flair of The Redhead Riter, but not too exotic for Alyssa's taste.
After the brief measuring, shaking, stirring and pouring, the pans were placed in the oven and the timer set. That gave me plenty of time to have a nice chat with my Facebook world. Of course, I had to tell everyone of the fantastic smells that were wafting past my nose.
Needless to say, there was an outcry for bread pudding. I invited them over, but everyone lives so far away they had to just live through the experience of the delicious smells and flavors vicariously. It really was such a shame that I couldn't share. Even this morning I had messages that many had bread pudding dreams.
As promised, I am providing photos of the now non-existent and much enjoyed bread pudding. Be sure to take advantage of the scratch and sniff photos to enhance your viewing pleasure.
Before Cooking


After Cooking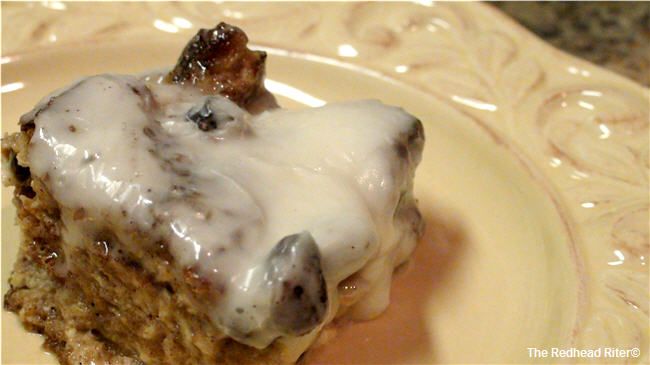 If you would like to duplicate this yummy dessert, I am also providing the simple version of the recipe.
Bread Pudding
4 slices of bread (white or wheat, fresh or stale)
3 tablespoons butter, softened
1/2 cup packed brown sugar
1/2 teaspoon ground cinnamon
1/2 cup raisins (white is my favorite)
3/4 cup water or orange juice
3 eggs
1/3 cup granulated sugar
1 teaspoon vanilla
Dash of salt
2-1/3 cup milk
Heat the oven to 350°.
Put 1/2 cup raisins in orange juice or water. Place in microwave for 2-4 minutes or until very hot. Set aside until plump.
Toast the bread slices lightly. On both sides of toast, butter, sprinkle with brown sugar and cinnamon. Cut each slice into four pieces. Arrange in a 1-1/2 quart casserole dish. Drain liquid off raisins. Sprinkle bread with raisins. Mix eggs, granulated sugar, vanilla and salt. Slowly stir milk into egg mixture. When completely mixed, pour over bread gently.
Place casserole in square pan (about 9x9x2 inches) on over rack. Pour very hot water (1 inch deep)into pan being careful not to pour into bread mixture. Bake until knife inserted halfway between center and edge comes out clean – approximately 60-70 minutes. Remove casserole from hot water. Ice with cream cheese drizzle.
Cream Cheese Drizzle
4 ounces cream cheese (warmed approximately 20 seconds in microwave until it begins to liquefy)
1-1/2 to 2 cups confectioners sugar
Stir slowly and then vigorously until mixture is smooth and slightly loose. If too thick, add 1/2 teaspoon milk at a time stirring after each, until loose. If to runny, add 1/4 confectioners sugar at a time stirring after each, until thicker.
Spread on top of hot bread pudding.
Serve warm.
When you're finished eating, don't use a napkin to wipe your mouth…just lick your lips.