Sometimes being able to relax takes a conscious effort. One definition of "relax" is to "make less severe or stringent." Many events happen in our lives to wreck the peace we often seek.

I have been plagued by cold sore/fever blisters all my life. In just about every school picture, I have a cold sore because I was nervous about getting a cold sore on school picture day. Lovely, huh?

About ten years ago, I went to the dermatologist and she saved me! In spite of all the hype about society using too many medications, I am so thankful to have a drug that prevents 99% of all my cold sores.

Today when I awoke, however, it was the 1% day. I felt a throbbing headache in my temples and my stomach was queasy because I had a huge cold sore on my lip that developed during the night while I slept.

Of course, I immediately felt panic which increased the pounding heartbeat on my lip.

I decided that I would use one of the famous ways to relax. So I grabbed a fluffy towel, lit some candles, put them in the bathroom and got into a peacefully, hot shower. No, I'm not big into baths in the tub because I don't have a tub big enough for me to stretch out. If I did, I would definitely hop into the large tub with massaging jets.

By showering in the dark with the exception of the light from the candles, just as the definition explained, I made my surroundings less severe and stringent. I didn't rush or let my mind think about the million things I needed to do. I just thought about the sound of the water and enjoyed the soft candlelight glow.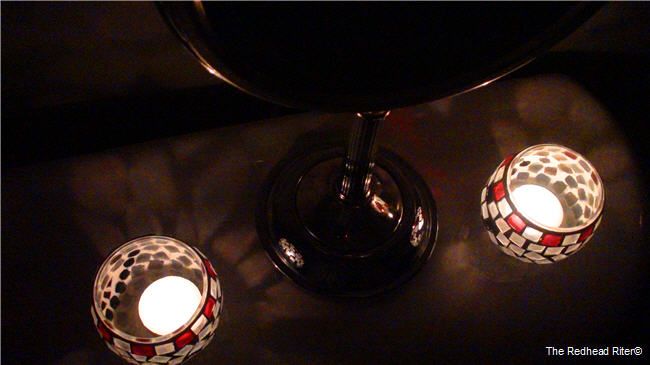 Yes, this was a morning shower alone. There isn't any rule that states you can't shower in the glow of candles alone first thing in the morning. Remember, we are special enough to pamper just like we do everyone else.

Next time you are feeling especially stressed, whether it is morning or evening, take a soothing and peaceful shower or bath in candlelight. You'll be amazed how much better you feel after just twenty minutes.