Welcome to "Tell The Truth Thursday" where the question that has been posted in my right side bar gets answered by me and you…and sometimes my husband too! Did you prepare your post and are you ready to drop your URL into the McLinky so that we all can follow? Grab the thumb below linking it back to this blog posting and let's get started…
The question this week is quite simple:
Do you have an interesting scar or piercing? When and how did you get it??
Short answer: Yes, I have a scar!


Longer answer: I can remember being a two year old. Isn't that amazing?

Anyway, I was my mother's constant shadow. While she cooked, I would sit on the counter or washing machine and play with forks, spoons and saucers. Mom always sang a lot (she has a pretty voice too) and would act silly to make me laugh. We also used to watch television shows like Bonanza, Gunsmoke, The Lone Ranger and Zorro. Mom and I were buddies.
One night while watching her cook, Mom decided to start acting silly. She grabbed the two prong fork that you can use to hold the roast beef or turkey when you carve it and she took the stance of Zorro singing….
"Into the night
When the full moon is bright
comes a horseman known as Zorro.
This bold renegade
carves a Z with his blade,
a Z that stands for Zorro.
Zorro, the fox so cunning and free.
Zorro, who makes the sign of the Z."
She "fenced" towards me with the large fork in front of her like a sword, singing, while I was laughing.
All of a sudden, I felt a pain in my lip and felt something hit the front of my bottom teeth.
That's when both us realized that the metal part of the fork had separated from the wood handle and had flown across the room stabbing me under my lip. It went all the way through my face to my teeth and just hung there bleeding.
Mom freaked!
Dad was calm.
I was confused.
They pulled the fork out of my face, cleaned the little hole and held ice on it to reduce the swelling and bleeding. I didn't need stitches and it didn't bleed much, but it was puffy and painful for quite a while.
So now I can sing the same song with a small deviation from the original wording…
"..This bold renegade wonderful mom
carves a Z with his blade 'T' with her fork…"
Yes, I have an upside down "T" under my lip.
A tiny little white "T"
Funniest part of all is that the "T" is very appropriate since my mother's name is Teresa.
I tried taking a picture of it, but since it is so small, I couldn't capture it in focus. I'll get Alyssa to try in the sunshine (very cloudy today) and if we can get a good shot, I will post it another day.
Every morning when I put my foundation on my face, I see my little "T" and think of Mom.
So don't even think about crossing Mom or she will brand you with her letter!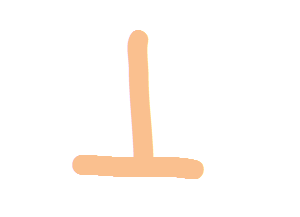 I love you Mom!
?
So now it is your turn to tell me about your scars and piercings!!! This is a fun Tell The Truth Thursday question!!
Add your blog to the Linky below and we will come visit.
BLOGNTWEET

…
The forum for savvy women and men!
Join here

.