Maybe you've forgotten my wonder and worry over being
pregnant
.
I didn't forget and in the back of my mind it continued to niggle me until I found out the answer.
I must admit that in private I entertained visions of babies. (my mother probably just fainted) You know that I read thousands of blogs and see so many beautiful babies, so do you really think that I can be totally unaffected by all those chubby cheeks, toothless smiles and cute clothes?
Thoughts such as, "Would it be a boy or girl? I already have a fantastically wonderful daughter, so maybe a boy this time around would be a fun switch. But girls and their frilly dresses are so fun! I would be happy with either…or both! Wouldn't that be fantastic!" (my daughter is probably freaking out)
Image: source
"What would I do at my baby shower? Who would I invite?"
Image: source
"Would everyone think I was insane or would they be happy for me?"
(the men just said "insane" and the women said "how wonderful!")
The more I thought about it, the more I longed to be young and pregnant again, but wouldn't mind being old and pregnant either. I started to hope that I was pregnant.
(my husband has passed out now)
Having a baby is not something I take lightly. I thought about all the pros and cons, but in the end decided that I know it would be better for me physically if I wasn't pregnant. That was such a hard thing to admit after blocking it mostly out of my mind for the last seventeen years. To find that the desire to continue the more "needy" type motherhood hadn't disappeared wasn't really a shock. I am very thankful for my daughter who is really a miracle, but "what if I could have one more" started to make me really wish again just like when I was twenty years old. I don't think those emotions will ever die inside of me.
I did find it interesting how "behind the times" I was when it came to a few things such as pregnancy tests. My pregnancy post comment box and email was filled with advice about types of at home pregnancy tests. I guess it was proof, as one reader stated, that I do not watch much television because I had no idea I could find out so quickly if I was pregnant! The miracles of science never cease to amaze me!
The mind with all the rational analysis was completely opposite the heart's ever longing desires for increased motherhood. However, it is sad to discover that the same hormones which go crazy when a woman gets pregnant also go crazy when she begins menopause. That is such a terrible realization. One marks the beginning of life and the other marks the beginning of the end. I don't think I could have been much more depressed and it continues to linger as I sit here all alone with everyone sleeping.
My family will be most shocked at this posting because I did not share my feelings with anyone for fear of ridicule. With my husband out of work, it would be quite difficult financially while physically it would be dangerous given my history and current health and age. However, once I had the thought of a possible pregnancy in my head, I started getting secretly excited. I was calm, nonchalant and even played it down whenever someone mentioned it, but inside was a whirling tornado of emotions and thoughts.
Now that I know I'm not pregnant and that my journey to older age is looming steadily closer, I feel I deserve some kind of gift to begin my journey out of one era of my life and into another. I would have received gifts at a baby shower, so I can't think of any reason why I shouldn't get one now. My husband needs to make of note of my wish…I would like a pink diamond ring resembling one of the rings pictured below. Pink diamonds are rather expensive, so when you get hired for a job, please refer back to this post if you need a reminder.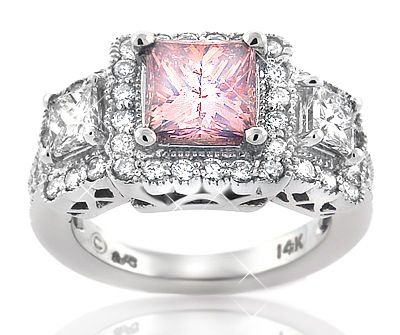 I also want a matching pair of pink diamond stud earrings.
I don't think that is too much to ask considering all that my body has been through for the last thirty four years and obviously will continue in its torment of my hormones. But most of all, it is a small token compared to a soft skinned, silky haired, powdered, lotioned, diapered, cooing, and smiling baby wrapped in a fuzzy blanket.