Alyssa, my sweet daughter whom I love more than life itself, this posting is for you. I am writing it in my blog because I want you to know that I am not ashamed of my love for our Savior, Jesus Christ. I have lived my life trying to please him, making mistakes, repenting, and trying again. That is what life is all about and I hope that I have taught you sufficiently.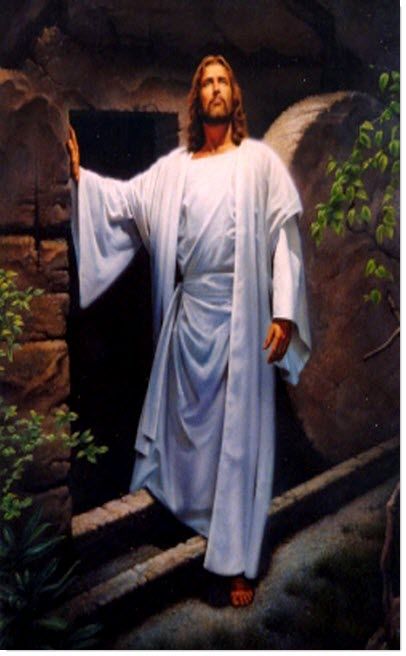 Christians believe that Jesus was resurrected from the dead on the third day after his crucifixion and this event is celebrated on Easter Sunday.
According to the King James Version of the Bible, the passage describing this event is found in John 20:11-18 which reads:
11 ¶ But Mary stood without at the sepulchre weeping: and as she wept, she stooped down, and looked into the sepulchre,

12 And seeth two angels in white sitting, the one at the head, and the other at the feet, where the body of Jesus had lain.

13 And they say unto her, Woman, why weepest thou? She saith unto them, Because they have taken away my Lord, and I know not where they have laid him.
This is my favorite picture of Christ. I can almost feel Mary's pain
at thinking someone had taken Jesus' body and then the
joy at recognizing him standing before her.
14 And when she had thus said, she turned herself back, and saw Jesus standing, and knew not that it was Jesus.
15 Jesus saith unto her, Woman, why weepest thou? whom seekest thou? She, supposing him to be the gardener, saith unto him, Sir, if thou have borne him hence, tell me where thou hast laid him, and I will take him away.
16 Jesus saith unto her, Mary. She turned herself, and saith unto him, Rabboni; which is to say, Master.
17 Jesus saith unto her, Touch me not; for I am not yet ascended to my Father: but go to my brethren, and say unto them, I ascend unto my Father, and your Father; and to my God, and your God.
18 Mary Magdalene came and told the disciples that she had seen the Lord, and that he had spoken these things unto her.
I want you to know, Alyssa, that I am grateful for the sacrifice that Jesus made for all mankind. I know that He lives and is the Redeemer of the world. He is always there to watch over and guide us if we will listen. No matter what we have done or do wrong, He is still there to lead us and love us.
Unfortunately Alyssa, some day I will not be on this earth to hold and comfort you when you cry, when your heart is broken, or to help calm your fears. That is my only apprehension about dying. I know where we all go when we die and who waits to greet us. It is a wonderful experience for us when we die, but sad for those that we have to leave behind. Although it will be only a short separation, as your mother, I don't want us to be apart even for that long.
Alyssa, I want you to know Jesus Christ the way that I do. I want you to recognize the promptings of the Holy Ghost that will inspire you to make correct choices.
Just as you text message, talk on the phone and spend time with your family and friends, I hope that you will make an effort to know Him.
Read His words.
Pray.
Prayer is wonderful and can give you peace when nothing and no one else can.
Live a life that is filled with unselfishness, love, compassion, service to your fellow man, and be trustworthy, forgiving, honest, and a virtuous woman.
Some day you may be blessed with children of your own. When and if that happens, you will realize just how much I love you. You will want your family with you forever. Your joy and happiness with their love for you will fill your heart to overflowing. It is the most wonderful experience I have ever known or will ever know.
I love you Alyssa. I love you with all that I am or will ever be.
I am so proud to have you as my daughter. I feel so blessed. You have fulfilled all the aching of my once empty arms.
You are special. A daughter of God. He loves you too and wants to give you all that you need. Jesus is there for you. I know this is true. He has comforted my broken heart many times and answered so many of my prayers even when I didn't feel I deserved his blessings.
Thank you for being my daughter. Thank you for the opportunity to share your life.
On this beautiful Easter, I hope that you thank our Savior for his sacrifice and commit to live his teachings always.
Loving you always,
Mom