Have you ever heard of the blog called "Mod Podge Rocks" with Amy? I love doing crafts and I love her blog! I was reading Mod Podge Rocks blog one day and saw a small drawer set covered with reference book pages. That's when I thought of covering a bookcase for Alyssa with dictionary pages. She loved the idea and also wanted to have some of her Dad's favorite words in English and Italian as well as my favorite words. In order to distinguish between the two, I highlighted my words in pink and her Dad's words in blue.
The first thing I did was paint the entire bookcase with white primer. After it dried, I painted a two inch edge (shelves too, top and bottom) in shiny black. While it was drying, I ripped out the dictionary pages with pictures and highlighted the words. The next step was to decoupage (I used the regular Mod Podge) the back side of the dictionary pages onto the bookcase. That took quite a while because I wanted the pages to be straight and the edges to remain flat. After each page was placed onto the bookcase, it had to be rolled flat to remove the air bubbles. I let that dry for a couple days. I followed that with three coats of hard furniture Mod Podge decoupage letting each coat dry for a couple days before applying the next coat.
Alyssa TOTALLY loves the final product…
A few of the simple yet meaningful words I chose were: daughter, love, sunshine (Alyssa is my sunshine), poodle (in memory of Evette), honor, virtue, marriage…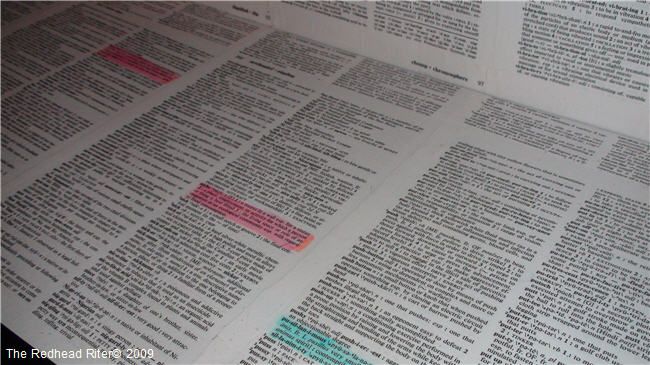 Can you tell that the bookcase has a nice sheen/shine from the

Mod Podge

?
I have totally fallen in love with Mod Podge thanks to Amy! I made several gifts at Christmas using Mod Podge and I will show you those soon.