Is being immodest a big deal? Depending on where you were raised, the standards of your family,and your own personal beliefs, the question could be answered yes or no.
Is there a definite 100% right answer?
While taping a show at South Beach Wine and Food Festival, Paula Deen's pants fall down…I mean way down to her thigh before she was able to stop the action.
Luckily, I have never had anything that humiliating happen to me! I think I would just die because there are some places on my body that have never see the light of day…LOL! However, in society today, her little mishap is not "that big of a deal" because people are naked everywhere you turn.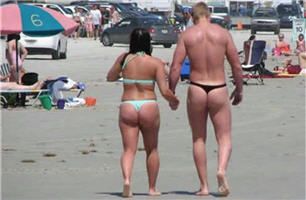 Modesty in clothing is said to show respect for the body. The extent of the exposure of private parts is usually the greatest part of the disagreement.
Not too long ago I told you about Body Painting. I found the diversity of the comments to be very interesting. So I thought I would explore the topic a little bit further and ask you, how much do you feel is too much skin to show in public?
You Scream, I Scream, We All Scream For Ice Cream
Make It Pink
Bill Dan, Rock Artist
To Blog or Not To Blog
Recipe: Old Fashioned Taffy
Honesty In Business
#2 Laws of Advertising