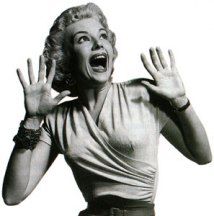 When I was a little girl (refer to my profile picture for a funny visual image), I was plagued by nightmares EVERY night. It was the same couple of nightmares over and over throughout the night and they would reoccur as faithfully as the changing of the seasons. I remember slowly coming out of the nightmare into a more conscious state, terrified and unable to scream because although I tried, I had no voice. My scream just didn't come out which made me panic even more upon full wakefulness. Tiny ("bouffanted" because it was impossible to mess those curls up), alone, in a dark room and terrified to even move, I would sometimes hide under the covers with my eyes squeezed tightly shut. Other times I would take a chance and just sprint to my parent's bedroom to nestle between them where it was safe. It wasn't until I was in my middle twenties that I quit having these childhood nightmares on a daily basis, and yet every now and then they pop back into my peaceful zzz's.
As an adult, I still do not dream. I guess I dream, but I do not recall my dreams. The only time I remember anything is if I have a nightmare and although they do not occur as often as when I was younger, they still persistently reappear in detail and color. The color makes it even worse.
I tried to stop watching all the crime shows (my favorites being NCIS, Law & Order SUV, Law & Order Criminal Intent, CSI Miami, CSI NY, Bones, Burn Notice, Without A Trace, Bones, Criminal Minds, Forensic Files, Numb3rs, The Mentalist, Psychic Detectives, Snapped and Medium), to see if it would help with eliminating such awful gore from my sleep, but it doesn't matter if I watch them or not, I still have nightmares. I never even watch a scary movie (that started back when I was frightened listening to the music on Perry Mason) or go to a haunted house. Last night I fell asleep at 8:00 p.m. on the couch. Yeah, go ahead and laugh! It is now 3:00 a.m. and I have been awakened from my warm slumber because I had yet another nightmare. This time it is about being in a parking garage and seeing a murder. IT WAS AWFUL! The murderer, who by now was covered in blood, saw me and started chasing me. I am always being chased by bad guys! While still somehow trapped between sleep and full wakefulness, I am in a cold panic as I try to look around the darkened room. Without my glasses I can't really make out the dark shapes which is even more unnerving. What's a girl to do? I simply shove my husband which pulls him out of his snoring symphony and he stumbles out of bed for a drink passing all the shadows that have me so frightened. Officially the nightmare ends.
These terrifying glimpses into a dark world also are not limited to thoughts in my sleep. When I'm awake I have horrible thoughts that flash through my mind and scare me so much! For instance, right before I put my key in the lock of the car the other day (I forgot I had that little remote thingy because I was in my head again!) a thought flashed through my mind that went like this…I might put my key in this hole and it could be rigged with explosives and blow me up. Then I saw myself being blown up. THAT is a terrible thought and a horrible visual image! Where in the world did that come from anyway?! I'm not a member of the mafia or into organized crime!
I have always had those types of thoughts and nightmares, but I don't know if it is all the political unrest, the constant wars with wounded people being shown all the time on the news or just my own fears, that have caused it to ramp up in the occurrences lately, but I'm not enjoying it!
I just wish they would all go away!
So what does the Redhead Riter do? I Googled to see what my nightmares might mean and this is what I discovered…hmmmmmm
being chased is a common dream
often stems from anxiety that is felt in the waking life
running is an instinctive action when you feel threatened physically which may parallel with how you cope with stress and fears
the chaser could represent your own feelings of fear, anger and jealousy
the distance between you and the pursuer is a measurement of the closeness of the issue
until you confront the issue, it will not go away
I'm not so sure how I feel about that analysis since I have had these nightmares since the beginning of my existence. If the analysis is true, then my fear and anxiety would be that I am terrified of life. I always joke with my mother that she labored so long giving birth to me because I was scared and didn't want to come out. In a way, I do fear life…I fear failing.
I fear failing at anything.
Ever.
It has always been an issue.
Obviously, if this is the reason for my nightmares and the analysis is correct, I haven't faced the issue properly and it isn't going away.
Ever.
Me and the dream boogieman are going to eventually meet I guess.
Then I'll have a heart attack and die.
And on a positive note…if that happens, my nightmares will end!
Oh, come on! You have to laugh!!! That was funny! It's a fact though…if I'm dead I can't have nightmares!
Silly me!
Win $100 in prizes —->
here
if you guess my name —->
here
Have you become a follower on my new blogs below?


Your blog is listed on one of them! Have you found it?