I remember the first time I saw the movie "Love At First Bite" with George Hamilton and Susan Saint James. I don't think I ever stopped laughing at George's "Count Dracula" accent and sure enough, thirty plus years later I am still mimicking him.
I love cabinets. The basic box shape just screams of organization which brings about peace to any environment. Cabinets are vastly different and yet hold the same element of being a place to store things behind a door. In the kitchen, cabinets line the walls hiding neatly organized spices, food, pots, pans and dishes.
When I was younger and we visited my grandmother, who I fondly called Mam-Maw, my chore to help the women in the kitchen was to fold all dishcloths and rearrange them in the cabinet drawer. I would spend hours meticulously folding the brightly colored dishtowels while Mam-Maw and I talked, sang, cooked and took bites of yummy food "before" dinner. It was during those times and many others that I saw the tender side of Mam-Maw. I had her all to myself and vice-versa. She would often act silly and start laughing so hard that she would double over with laughing pains in her stomach. Her soft, unwrinkled, youthful face is still in my mind's eye and the memories in the kitchen amongst her clean, organized, shiny pine cabinets are treasured.
Cabinets are also known as cupboards and they set the tone of the kitchen. Constructed in many different shapes, sizes, materials and colors the end product is limited by only one's imagination. Cabinets have come a long way since the first planks were hammered on the way creating a boxed shape with shelves.
I "vaunt" (said like "want" but with the letter "v" instead of "w")…I "vaunt" you to have a look at the pretty cabinets…

Image: Home Decoration Collection

Image: Téndir

Image: Kitchen Cabinets

Image: Cabinets By Design

Image: Weyerhaeuser Photo Library

Image: Garden Web

Image: Noble Brothers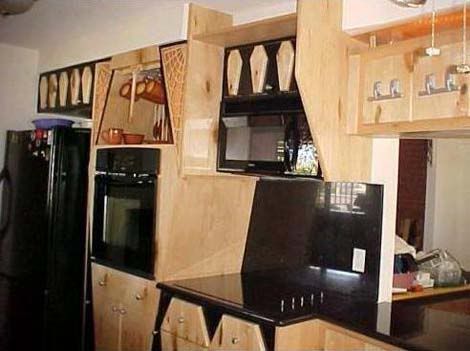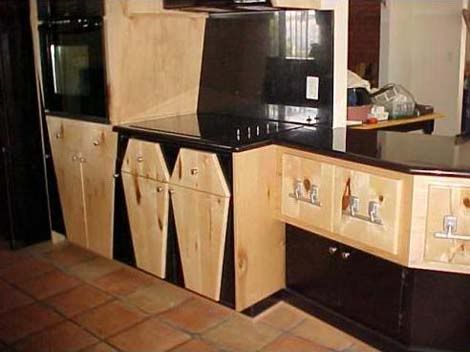 Images: Coffin It Up
I "vunder" "vhat" you're thinking?