My favorite flower is a gardenia. Its fragrance is beyond description…
I can get one whiff of it's fragrance in the air and immediately know that there is a gardenia nearby.
When I was young and living in Virginia, we had quite a few gardenia bushes in our yard. When they bloomed, my little nose stayed buried in its flowery petals. More times than I can remember, I would sniff up a gnat or pollen. Nothing stopped me.
Now it has become the joke that I will take a petal, sniff really hard and cause the suction to keep the petal covering my nostril.
I know…I'm crazy.
If I am "out" and find a bush covered with fragrant blooming gardenia flowers, Alyssa will immediately say, "DON'T embarrass me."
What makes her say such a thing?
One day Alyssa and I were in Home Depot looking at EVERYTHING. I could spend a day in that store and I don't even like shopping. We eventually made our way to the garden supplies and what to my amazement did we find?
Gardenia bushes!
I need to interject that the store was empty. I know that is unusual, but really, no one was around. So I found a fallen petal on the concrete and held it up to my nose.
It is like the drug they give you before you go into surgery. Everything feels right and I feel rather "floaty."
Then the imp takes over and I look at Alyssa who is glaring at me and daring me to act out of line. Sometimes she can be so old.
I couldn't help myself. I sniffed really hard and the petal covered my nostril hole.
I smiled big and kept sniffing while wiggling my booty as if I could really dance. Alyssa furrowed her brow and sternly said, "Mo-om!"
I just kept on acting silly and trying to "make a moment" with my child.
Her face was turning red. I didn't know if it was from anger or embarrassment. No one was in the store so surely it couldn't be embarrassment.
Or could it?
I took the petal off my nose and turned around.
There stood an older gentlemen staring at me like I was an alien.
I'm sure I blushed, but then I thought…
What the heck! I created "a moment" with Alyssa…one she won't soon forget. A moment when she sees me as not just her mom, but as a woman.
Just as she started out like a gardenia bud, she is blooming into a beautiful young woman…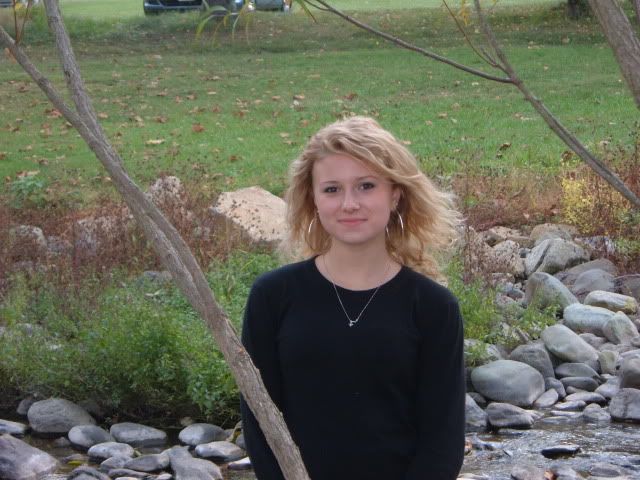 Some day she will be sniffing petals in the middle of Home Depot while embarrassing her children.

I heard that…Yes you will!