It requires an imagination,
a playful heart,
and most of all
patience.
I used to play with LEGO® bricks for hours and hours when I was a child. Back then, it was a big deal if we had doors and windows. Looking at the LEGO® bricks in the stores today is a totally different experience because not only are there doors and windows, but there are also people, food, automobiles, boats, robot parts, kitchen appliances, trees, flowers, etc.
As amazing as the things I built with the LEGO® bricks (I actually prided myself in my skills until now), they truly can not compete with the finished product of a New York-based artist named Nathan Sawaya.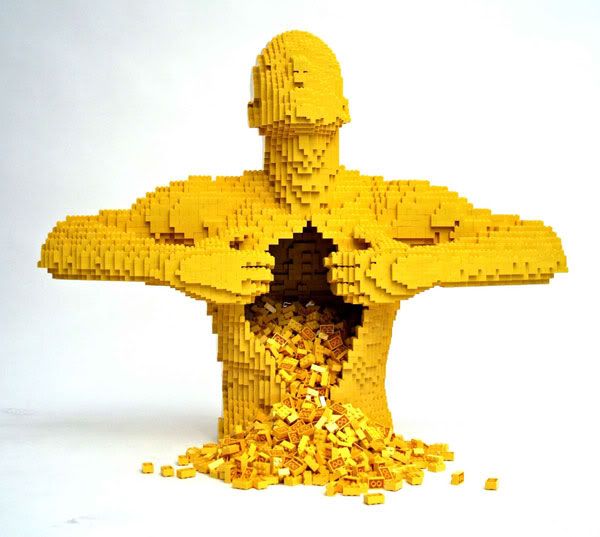 Images: The Art of the Brick®
Not only did he make a life size playable cello, but for a mere $60,000 he'll make a life-size replica of you. That would be too awesome!
Images: The Art of the Brick®
Also check out what a ball made of a ton of LEGO® bricks looks like when it gets rolled down a hill.
Once again, I have written about an artist that uses a simple medium to create astonishing pieces of art which is sold for quite a bit of money. Why are they successful?
"Always bear in mind that your own resolution
to succeed is more important than any other.
~Abraham Lincoln~
So often when we see other people succeed in their careers, marriage and family life we think, "Why them and not me?"
Are you trying? Be honest with yourself. Are you putting as much into succeeding at your goal as Keira Rathbone, Willard Wigan, and Nathan Sawaya? Only you know the answer to that question.
If you are, however, working hard and still not succeeding at your goal yet (a.k.a. failing, but since that is "negative", I choose not to use that word), don't give up! Each time you don't succeed, you learn another aspect necessary to reach your goal. It is invaluable experience and strengthens your depth of character.
"The definition of success:
fall down seven times, stand up eight times."
~Japanese Proverb~