Do you ever sneak a peek?

Do you cross the line of respectful privacy?

Maybe you don't feel like this is being disrespectful?

I have a mixed feeling about the question that I posted on the poll which was "Do you look at your sweetie's text messages when no one is looking?"

I was actually surprised that most of you answered, "No, never!"

Does that mean:
You have a wonderful relationship full of trust.

You don't care.

You are turning a blind eye to their inappropriate texting or calling.

You lied…LOL
Jealousy is a tiger that tears not only its prey
but also its own raging heart.
~Unknown~


What exactly does it mean to be jealous? According to Webster's Dictionary:
intolerant of rivalry or unfaithfulness

disposed to suspect rivalry or unfaithfulness

hostile toward a rival or one believed to enjoy an advantage

vigilant in guarding a possession
When one person believes there is a rival for the attention, love or affection of their partner, the natural feeling is jealousy. It really isn't a problem until the actions of the jealous partner become obsessive in order to control their partner. They may check text messages, emails and monitor or limit phone calls to other people. This obsessive behavior is going to cause both partners to feel resentful and creates toxicity. When jealousy becomes obsessive, the mind will go over and over innocent actions creating unrealistic scenarios that the obsessor believes prove their partner's guilt. If they are honest with themselves, they know that this behavior is based on fantasies of the mind which result in unwarranted accusations.
Obsessive jealousy is rooted in low self-esteem. This is something a person has to live with every day, every minute. It can be a living nightmare. While trying to satisfy their feelings of adequacy, the supposed "guilty partner" suffers too. Constantly trying to prove "innocence" is tiring and hurtful if there isn't any unfaithfulness. These explanations to comfort the jealous partner are usually a waste of time. The lack of self-esteem usually goes back to childhood and has caused the obsessor to constantly fear that the people or person they love will disappear…constantly feeling the person of their obsession is going to leave.
Whether or not the obsessive partner realizes that they have a problem, the actions are usually the same. In order to "cure" obsessive jealousy, it is necessary for the person to "heal" the pain that was suffered earlier in life. For instance, if a child's parents obtain a divorce, many children suffer feelings of abandonment. If not treated, they can and often do grow up to become obsessively jealous companions. Obviously, a person can not just "get over" being jealous. They must first look within, admit there is a problem and then seek the help (usually professional therapy/counseling) necessary to heal.
The "seeking help" step is often very difficult. Let me suggest that there is a step between admission and therapy/counseling. That step would be called self-help. There are many excellent books that were written specifically to aid in understanding and overcoming obsessive jealousy. A few that I can personally recommend are: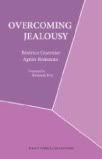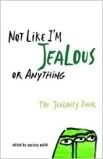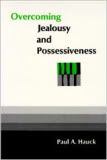 Whether you are the obsessor or the object of the obsessor, reading these books is not an easy task. It requires you to see within the tormented mind and broken heart of the person that you love or yourself. Skimming through these books is like not reading them at all. Most self-help books are filled with stories of other people's struggle with the problem being discussed. Reading about their life is necessary. You can not skip these parts of the book because you feel that they are irrelevant and still hope to actually obtain the help you seek.

When we are no longer able to change a situation,
we are challenged to change ourselves.
~Victor Frankl~
Change is not easy. Many people find it too hard to change or to live with someone who will not make the effort to change. In order to be successful through this journey of change and healing, everyone involved must be patient. I looked up the meaning of being patient in the Webster's Dictionary which reads:
bearing pains or trials calmly or without complaint
manifesting forbearance under provocation or strain
not

hasty

or impetuous

steadfast

despite opposition, difficulty, or adversity

able or willing to bear patiently
There isn't a short cut in this process nor quite simply can there be impatience.
Now, the moment of truth…I have been both the jealous companion and the object of a jealous companion. Personally, I found it easier to the obsessively jealous person because I was in control. Everyone say together, "She must be a control freak." Honestly, it was easier being obsessive because I KNEW that I could change if I set my mind to it. I can't, however, make anyone else "do" or "want to do" the steps necessary to change their own flaw. It is hard to watch someone you love suffer while also having your own feeling of helplessness in the situation. If you are currently "obsessing", I encourage you to be honest with yourself and seek help. You will feel such a sense of freedom and a huge weight will be lifted from your heart and mind. If you are the person who is being obsessed, encourage your partner to seek help, do not enable their behavior and have more patience than you have ever practiced.
"Patience is the companion of wisdom."


~Saint Augustine quotes (Ancient Roman Christian Theologian~