The Fourth of July, also known as Independence Day in the United States, is a holiday commemorating the adoption of the Declaration of Independence on July 4, 1776. This was the day that we declared indepence from Great Britain and became our own self-ruling country.

On this day of celebration there is an assortment of festivities including family get togethers, baseball games, parades, picnics, barbecues, and best of all fireworks!

The specifications of the flag is as follows:
Hoist (width) of the flag: A = 1.0
Fly (length) of the flag: B = 1.9[3]
Hoist (width) of the Union: C = 0.5385 (A x 7/13, spanning seven stripes)
Fly (length) of the Union: D = 0.76 (B × 2/5, two fifths of the flag length)
E = F = 0.0538 (C/10, One tenth the height of the field of Stars)
G = H = 0.0633 (D/12, One twelfth the width of the field of Stars)
Diameter of star: K = 0.0616
Width of stripe: L = 0.0769 (A/13, One thirteenth of the flag width)
This is the proper way to fold the flag: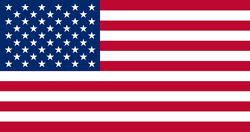 I am VERY thankful to all those who protect our country and sacrifice so much of their time away from their own families and even give their own lives so that we can live in a free country where I can believe, worship, and live the way that I choose.
My family will be having a cookout at my sister's house and then watching fireworks. I will take lots of pictures and "ooooh" and "aaaaah" at all the fireworks. I can't hardly wait!!!!