Do you know what it means?
It all depends on how you look at it.
In essence, my last sentence is the definition of the word. It means "your point of view" whether it is about issues, life experiences or beliefs.
The word is "perspective." I spelled it backwards in the title. If you have dyslexia, the word would have looked correct from your perspective!
Perspective is how you see something and react to it. The most common example is the optimist and pessimist who see the glass half full or half empty respectively.
The attitude you have about something can often make or break an event or a whole day. There are a few steps you can take to change a negative outlook.
See the positive in the situation.
You wake up Saturday morning and you have a long list of chores to do. Outside the sun is shining and all you can think about is going to the beach and relaxing in the sand all day. However, you know that no matter how fast you are with the chores, you will not get to the beach today. You can react two ways:

Act unhappy and take it out on everyone all day because you are working instead of relaxing.

Feel thankful that you are healthy, have a family that loves you and that you have the day off with the time to do all the chores you deem necessary.
Don't make up your mind until you look at the situation unemotionally. Don't jump to conclusions and react before you know the facts.
There is a loud noise in the kitchen, so you run down the stairs to see what is causing the commotion. Upon entering the kitchen, your son is on the other side of the bar having just dropped you favorite china serving bowl. You can react two ways:

Calmly ask your son if he is hurt and what happened.

Fly into a rage assuming that he wasn't careful with your possessions. Wouldn't you feel bad if during your angry outburst you discovered that there was a snake coiled inside your kitchen cabinet and it frightened your son when he opened it thus causing the broken bowl? I know. That is a far stretch, but you get the point.
Look forward to change. Realize that when you step out of your comfort zone into the darkness, there are experiences that will help you grow and enjoy things you never dreamed possible. In other words, put your neck on the line.
My grandfather, Robert, worked in the lumber and building supply business most of his life. After gathering all the skills and knowledge necessary to be successful, one day he felt that he could do better if he opened his own store. Rather than letting a fear of failure hold him back, Robert took a chance and went forward into the dark unknown of entrepreneurship. He researched, networked and planned. In the end, he opened a very successful store and was extremely happy.

Perspective.
Perspecitve can make or break our choices.
Consider this…
It is a tiny picture of pretty little flowers.
Would you like to smell them? Can you almost feel the petals tickle your nose? Don't you want to pick them and put them in a vase in the middle of the table?
Yes?
Let's get closer. In other words, let's change our perspective.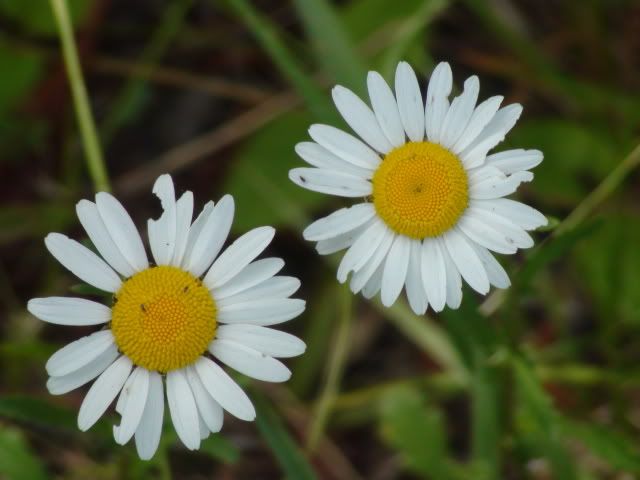 Yuck! It isn't very pretty any more! I don't want to get my nose or the table close to all those bugs!
Obviously our perspective has changed and that has made us consider other choices.
Stay open and positive.
Progression and happiness are waiting if you simply take that step with a positive attitude and healthy perspective into the darkness of uncertainty and opportunity.

The difference between a mountain
and a molehill is your perspective.
~Al Neuharth~