Lola at Lola's Diner has given me the "One Lovely Blog Award."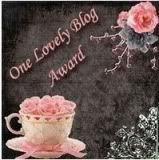 I was shocked!!!! Thank you so much!

Rules:
Accept the award, post it on your blog together with the name of the person who has granted the award and his or her blog link.
Pass the award to 15 other blogs that you have newly discovered. Remember to contact the bloggers to let them know they have been chosen for this award.
Everyone is basically "newly discovered" to me because I am new to blogging! These are my favorites.

Here they are in no particular order:

Julie @

Moments of Perfect Clarity


Michele @

On The Tip Of My Fingers

Clare @

accidentally, kle

Jerry @

Quincy Daily Photo

Anna Mae @

Mushroom

Ms. Unreliable @

That Unreliable Girl

Sandi Henderson @

Portobellopixie

Pat @

Back Porch Musings

Casey @

Aubut Life

Heather Bailey @

HELLO My Name Is Heather

Angela @

Mom's Fortress of Solitude

Alicia Paulson @

Posie Gets Cozy

Tricia @

5 Little Monkeys

Cathe @

Just Something I Made

Congratulations to all, but really I want to say THANK YOU for sharing your blog! Have a great weekend everyone!