Outside, I can grow just about anything…vegetables, trees, flowers and grass. The flowers grow large; the vegetables are delicious; the grass is deep green; and the trees grow tall and wide. I have no problem growing anything outside.
I guess you could say I have a green thumb?
What exactly does "green thumb" mean anyway? This term originated back in the 1900's and referred to the green left on your fingers obtained after pinching back the ends of plants to allow for new growth. If you have a green thumb, it is believed that you have the ability to make plants grow well.
When I was promoted from one department to another, the group gave me a going away plant…big, green, lush, beautiful plant. Before long, the leaves began to droop, turn brown and drop off. Every day was a sad state of affairs with another leaf turning brown and dropping off. I received advice from everyone, but eventually, it died.
Feeling sorry for me, I'm sure, Ollie gave me a new plant that she put in a bright green pot. Maybe she was trying to give me a subliminal message to keep the plant green. Ollie assured me that she would check the plant daily to ensure that it continued to flourish. However, one day upon coming to work, I found a little note leaning against the flower pot. It was one simple word…murderer. Shall I simply say, "Boys will be boys…Don!" Everyone got a good laugh out of that one. Anyway, although Ollie checked on the plant daily, it still died.
By now, with quite the killing reputation, Bunny (her nickname) decided that she would save the day and gave me a plant that was "impossible to kill." She raved on and on about how her plant had taken over the office, that shoots she had given others were huge and green, and that mine too would live. It would be "No problem," she said.
I only halfway believed her, since I know that for some reason inside plants do not seem to like me. However, I was willing to give it a shot. I listened to her daily advice until even to her amazement, the plant began to die. No amount of loving, tender care or soft words would revive it.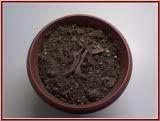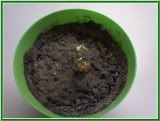 At this point, it is common knowledge that green plants can not exist around me.
I'm hopeless.
I don't have the heart to get rid of the remanants of the potted plants. They just sit like a beakon of my brown thumb.
Until one day another co-worker, Eric, is informed of a temporary job assignment which will require him to move to a different office. He is going to leave his "stuff" in his office and just go to the other office every day.
There is only one problem.
Eric has a beautiful bamboo plant.
He needs someone to take care of it.
Eric can ask anyone.
There are a lot of people to choose from and they would all be willing to help.
He asks me.
I'm thinking to myself, "What part of 'plant killer' does this man not understand?" I remind him of my past failures to no avail. He insists that I "can do it" and that he knows the plant will be fine. I think he has rocks in his head.
The dreaded days comes and he passes the bamboo plant to me. My directions are to keep water in it. How hard can that be?
Every day I open the door into my office a little panic stricken until I see that the plant is still green. Day after day the plant not only remains green, but it begins to grow lots of new leaves!
I'm too scared to hope or believe that it will continue to live.
I talk softly to it when no one is listening.
I play a wide assortment of calming music most of the day.
I don't stare at it in case it is a shy plant, but when it isn't looking, I marvel at all the new growth!
Every night before I go home I beg it not to die.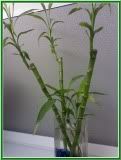 I think it must be an alien plant because it did not receive "the news" of my reputation as an inept indoor plant gardener.
In spite of my history, I'm doing a great job and the plant is growing!
I guess I shouldn't brag yet.
Eric still hasn't come back to pick up the plant.
A lot can happen in a month.