Arriving home after purchasing the last book in the Twilight series, I spied a frog.
I had to have a picture, but I knew if I ran into the house to get my camera he would hop away, so I grabbed my cell phone.
Click.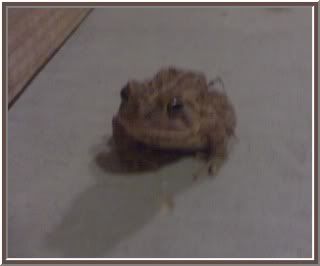 So many thoughts flew into my mind and it progressed something like this…
I love the cute little frog in Beatrix Potter's Mr. Jeremy the Frog.
The Brothers Grimm's fairy tale, The Frog King, is also known as The Frog Prince. In this tale, a frog magically turns into a handsome prince after the princess becomes his friend. This scenario is repeated in many popular movies and books where the princess kisses the frog, breaking the evil spell, and then he is transformed into a prince. In the original Grimm version, the princess throws the frog against the wall in disgust thus breaking the spell.
I love the underdog, or the warted frog, to win and live happily ever after at the end of a story. Very much a romantic at heart, I enjoy books where "good conquers evil" and the "guy gets the girl." That is why at the age of fourteen I started reading Harlequin Romance novels. Twenty plus years later I had read over three thousand books from the series! I think I have been brainwashed to "happy endings" in movies, books and relationships.
Silly or optimistic?
Either way, I want to keep my mind open to all possibilities to increase happiness and little frogs remind me of that commitment to myself.
We think too small, like the frog at the bottom of the well.
He thinks the sky is only as big as the top of the well.
If he surfaced, he would have an entirely different view.
Mao Tse-Tung

Are you the frog at the bottom of the well or do you think you've jumped out?