Memories.
Strange things.
They resurrect themselves unexpectedly.
Other times, we bring them to the forefront of our minds to relive an experience that brought happiness into our lives.

I've always liked cups and saucers. The design is irrelevant. Unfortunately, I also have a klutz gene that refuses to reform and ensures that everything "breakable" gets broken. I still try not to touch anything when I go into the glassware's section of any store. They write those "Do Not Touch" notices for me. I don't know how it happens, but if you want it broken just invite me over.


I think lots of cups, all with different designs, are a "happier" presentation than everything matching. Most of my cups are now one offs, but were not purchased with the intent of being alone. Actually, they were all a part of a set of eight or twelve. I guess you could say they are the last cups standing…for now.


I often look at the china and glassware on the internet. The designs lift my mood. They bring memories of hot cups of cocoa with little marshmallows on cold winter nights. Chocolate and I go back a long way. So I can recall many cups filled with hot cocoa and happy moments…sitting in the bed with my niece, Brittany, watching the snow fall outside while drinking a cup of hot cocoa with marshmallows that I had to keep adding until all her chocolate was gone…all alone, away at college, being homesick, watching the snow fall outside and drinking a cup of hot cocoa in a big blue mug…cold wind blowing outside while Alyssa and Brittany, so tiny, with excited smiles, sitting on the kitchen counter top, watching as I stirred the "real" hot chocolate recipe in the pan, holding their little cups filled with marshmallows – to the brim…


Standing at the stove with an older Alyssa watching as she stirred her recipe for hot chocolate as I waited with a cup my mother gave me…The memories are all there and triggered by the site of a simple patterned cup. I have a cabinet full of cups that I use all the time. I no longer "save" any for special occasions because every day and every moment is special. Some of the cups get broken, but the memories never fade.


Today I reached in the cabinet to get a glass and I saw the big yellow mug with a smile on the front. It made me smile. I never use that cup because it is too big, but it is so happy – big, bright yellow and a huge curved smile. Every time I open the cabinet, it is there to greet me.

I surround myself with the things of the past that bring me happiness. "Expensive" things are expensive, but "sentimental" things hold the real value…to me.

Cups are one of those sentimental, happy things.

Even more than cups is the treasure I find in my flatware drawer.

Interspersed with the all the knives and forks and spoons there are treasures.

Memory treasures.

Everyone who ever goes into the drawer tries to give me the same advice…

"Why don't you put these things away. No one uses them any more."

I have to tell them that I have noted their advice and

Thanks, but no thanks.

I use them.

Not literally, but I use them, in a matter of speaking, to decorate my flatware drawer.

They bring me happiness every time I reach into the drawer.

They bring me memories…

Priceless memories…

Days filled with

diapers,

bibs,

kissing the boo-boo,

giggling,

naps,

breastfeeding,

frilly dresses,

fingerprints on the windows,

soft blankets,

coloring books,

black patent leather shoes,

cute little hair bows,

cuddling on the couch,

toys,

making sure the shoes are tied,

bedtime stories,

powder,

little bites,

picked up and eaten with tiny fingers,

and

little flatware with pictures and her name.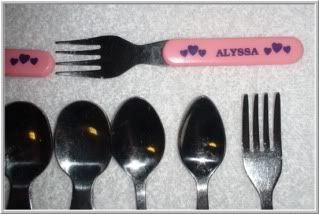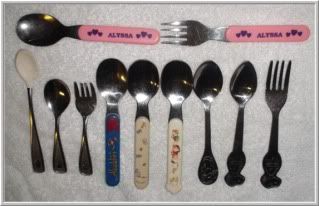 Memories that I cherish and treasure

brought to my mind by

cups, saucers and

flatware.