I'm sure you've seen the Cream of Wheat commercial where the little kid eats the piping hot bowl of Cream of Wheat and then walks around all day long with a warm bowl floating over his head. Like the little boy, every day there is a vacuum cleaner, bathroom cleaner, laundry detergent, dish washing liquid and a few other "supplies" that hover and beckon to us. There is a long list of "routine chores" that scream to be completed on a regular basis. Then there are those "other chores" we dread. They loom in front of us like Mount Everest.
You know the kind of "other chores" to which I refer, don't you?

"de-fingerprinting" the windows
scrubbing the baseboards
wiping the dust off the top of the door frame
pulling out the refrigerator to remove new forms of life
sweating over the carpet shampooer
submersing the "knick-knacks" in hot, soapy water and drying every spot
cleaning out and re-organizing "the closet"
Ah, yes, cleaning out the closet.
If just saying the words creates the urge to run from the house, pulling out your hair and screaming, try to remain calm and follow these few easy steps.
It doesn't have to be that bad. Just take it a few steps at a time.
Remove the contents of the closet – Everything except the clothes on the hangers.
Buy enough hangers and ensure they are not flimsy – small closets will hold more clothes if you use the extended hangers that connect vertically to one another.
"Throw Away" pile – Get rid of the garbage.
"Keep" pile – Clothes, coats and shoes that FIT. Let go of the shirt from the 80's that you are sure will come back in style. It is probably dry rotted and the seams will split the first time you wear or wash it.
"Give Away" pile – If you haven't worn the article of clothing or shoes in the last two years, are you really going to ever wear them?
"Mend" pile – Missing buttons, worn heels, loose hems – Keep these things together to take to the appropriate place for repairs.
Vacuum the closet floor – If the carpet needs cleaning, pull out the shampooer.
Buy closet organizers – Your closet will stand a better chance of keeping the closet clean if you have "a place for everything and everything in its place."
Need inspiration?
These closets are just so neat and tidy.
http://www.easyclosets.com/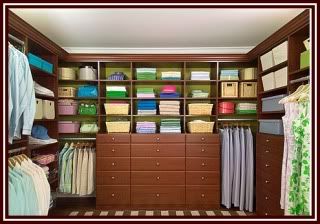 http://www.trendir.com/
http://www.evadesigns.com/
http://www.rubbermaidcloset.com/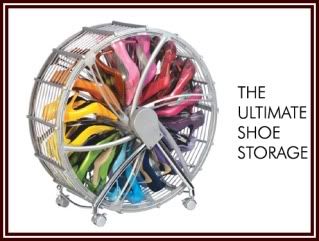 Spring Cleaning Fever is in the air and I can feel it.