What do you get when you cross a pig, pigeon, chicken and a teenage girl's wild imagination?
Alyssa had to create an imaginary animal for school. I don't remember what the context was of this creation, but I do remember it was for biology. All I have to say is it sure beats dissecting a frog!
Without further adieu…The Flower Tail Pichen

And there is the "flower" on the "tail"…LOL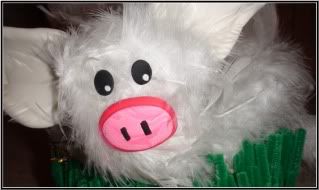 Compared to this creature, I KNOW now that I NEVER had a vivid imagination. Yep, I'm a nerd.