We've seen the heart moving fairy tale by Disney called "Beauty and The Beast." Did you know that the first published version of this story was in 1740? The first version is slightly different than the Disney version. I love watching the movie and can do so over and over again.
It is indeed a movie to ponder. The Beast, who isn't very handsome, and Belle the Beauty, meet each other and eventually fall in love. By the end of the movie, I actually forgot that the Beast was ugly because I fell in love with him too. That's what fairy tales do for you…they absorb you in the story and plot while you become the main character living out the role on the screen. I've been Belle many times!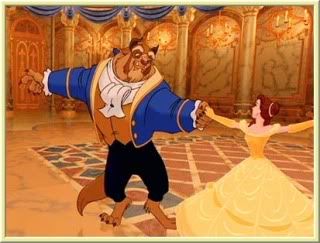 Country music recording artist, Kenny Chesney, made popular the song
"You Had Me From Hello."
Following that same pattern, the Beast
"Had Me When He Gave Belle The Library As A Gift."
The Library was
MAGNIFICENT
and actually this nerdy redhead's dream! I've always wanted to have a huge library of my own. I can imagine being lost in the Beast's library for days and forgetting everything while I voraciously read the books.
As little girls group up, we think that as a natural consequence of aging, we will find that perfect man who will shower us with
"libraries"
and dance ballroom style in the middle of a palatial home while dressed in a tuxedo just for us. It doesn't take too long after we get married that we find that the adoring Beast has turned into Fred Flintstone.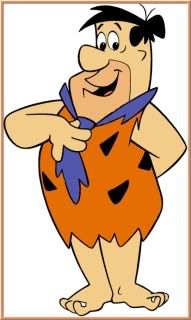 What a man that Fred Flintstone is and Wilma is even worse than June Cleaver. My Grandmother was a June Cleaver double and as much as I love my Grandfather (both have passed away now), it drives me nuts still just to remember how she perceived "wifeliness." The "little woman, barefoot and pregnant, waiting on her man hand and foot" is just not realistic any more and I don't believe it was reasonable long ago either. On the hand, a man is not required to shower a woman with lavish gifts 24/7, 365 days a year either. I hear women gasping…I know it is hard to fathom, but no matter how special "we" are, continual gifts and shopping sprees are insane.
If I work all day the same or longer hours than my husband, why should I come home and cook, wash the dishes, clean the bathroom, wash the laundry, dust the furniture, clean the windows, fold the laundry, clean the kitchen, vacuum, iron the clothes, etc. (I could continue with this list for another hour) if he is just going to lay on the couch, watch T.V., and take a nap?
HELLOOOOOO!
I don't think so!
I am definitely an EOC…Equal Opportunity Companion. If I cook; he cleans the kitchen. If I clean the bathroom; he washes the laundry and folds the towels. When I go to the store to buy groceries; he pushes the cart. When I vacuum, then he dusts the furniture…and I inspect to make sure he also dusted the legs on the tables. You get the picture? I'm not saying that he doesn't complain or that he has on a happy face during the whole experience, but if he wants the redhead as a wife, there are "requirements" in the relationship and I don't think they are unreasonable. I get just as tired and worn out as he does, so "what's good for the goose is good for the gander."
I believe the "little things" count and they really do make or break a relationship. I understand that men like to belch and have noisy gas releases, but I don't want to hear them. I also know that men are "out" working every day and see beautiful women in nice clothes, hair perfect and wearing makeup. I can guarantee that when my husband sees me after he gets home from work, I am not looking shabby. Appearance matters and I think it matters more to men than women. That, of course, is just my personal opinion.
For a few pointers: Don't forget to TALK to each other and to notice the characteristic traits that drew you to one another in the beginning. He is not the Beast any more than you are Belle. Keep up the good manners; a "please" and "thank you" go a long way. Listen intently if you want to be heard when you are speaking. "Constructive criticism" not blaming and accusing. Don't think he can read your mind. Maybe I should repeat that one…Don't think he can read your mind. He CAN NOT read your mind. He CAN NOT even fathom the 150 things that go through your mind every millisecond. If you want him to know something or remember something, SAY IT to him. And maybe one more – Realize that he is not going to be perfect any more than you are perfect. Love him for all his good traits and nurture the companionship.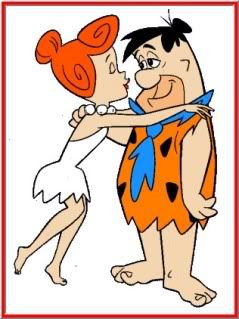 It has been relatively quiet around here while I was writing this post. I wonder where my husband is?…let me turn the volume on music player down…Oh yes…I think I hear Fred Flintstone snoring the roof off in the bedroom now…